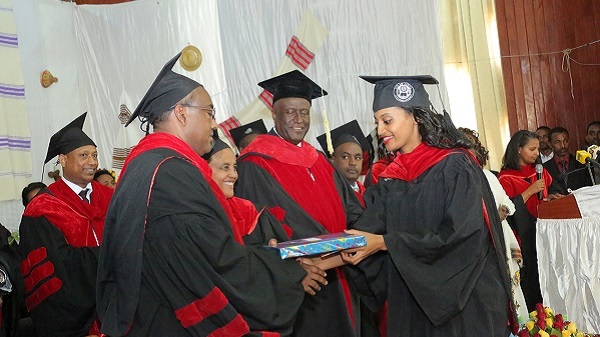 Addis Ababa University's School of Medicine, in the College of Health Sciences, graduated its first batch of doctors of dental medicine on its 43dgraduation ceremony held on 19th November, 2016 at the College of Business and Economics Hall.
Out of a total of 224 graduates, 73 were female. 204 of them were medical doctors while 20 were doctors of dental medicine that make up the first batch under the stream.
"Nothing is worthwhile than rescuing human life," said FDRE Deputy Prime Minister Demeke Mekonnen. He went on to say: "the government works diligently to build human capital and infrastructure to a level that can meet the country's demand and ensure health care coverage, service quality and disease control."
READ: SNV Graduates Laboratory Technicians in Ethiopia
The graduates took the traditional Hippocratic Oath to treat the ill to the best of one's ability, to preserve a patient's privacy and so on. The graduates received their degrees from the guest of honor, FDRE Deputy Prime Minister Demeke Mekonnen.
President of the Addis Ababa University (AAU), Admasu Tsegaye (Ph.D.), on the occasion underlined that we can build good image of our country provided that every single individual effectively and efficiently discharges his/her professional responsibilities. "The role of today's graduates is unsurpassed to uphold quality and services in the health sector," Admasu (Ph.D.) said.
The College of Health Sciences (CHS) of the AAU was established in 2009/10 through the reorganization of previously separate institutions of health under one umbrella. The CHS comprised of four schools and one teaching hospital: the School of Medicine, the School of Pharmacy, the School of Public Health and the School of Allied Health Sciences.
Source: AAU
——
Other stories:
---