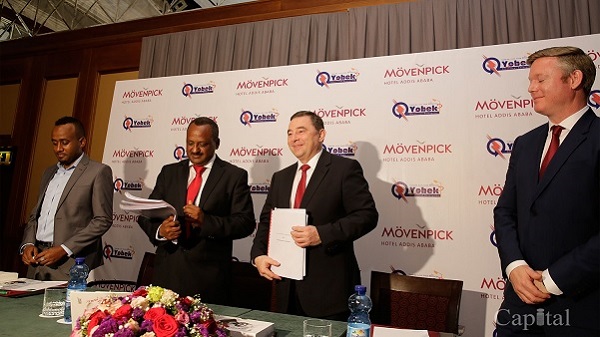 Addis Ababa (Addis Fortune)–Movenpick Hotels and Resorts, a Swiss hotel management company operating in 25 countries, has signed a 20-year management deal with Yobek Electrical Enterprise to bring Movenpick to Addis Ababa.
Ozzie Business and Hospitality Group facilitated the deal, negotiating on the behalf of the local property developer Yobek.
The management deal was signed on March 9, 2017, at Sheraton Addis Hotel between Berhane Gidey, founder and president of Yobek Electrical Enterprise, and Andreas Mattmuller, the chief operating officer of Movenpick Middle East and Africa.
The property, which has reached 60pc completion on its construction, is located in front of the former Imperial Hotel, around Bob Marley Square. The nine storey building, for which finishing works are currently being done, is expected to be finalized in two years, with a total investment of 1.2 billion Br.
"We decided to sign the agreement with Yobek because Addis Ababa is a diplomatic seat for many countries and the African Union", said Mattmuller. "The stability of the country is also an attraction."
Movenpick was chosen from 10 hotels which the property developer was dealing with, according to Kumneger Teketel, managing director of Ozzie.
"We did not simply look at the brands. We emphasized values that would count in our industry," Kumneger told Fortune. "In this regard, Switzerland is a leading country in the hospitality industry, so the opening of Movenpick will transform the hospitality sector of the country."
"Its work principles and discipline were the main criteria that led to choosing Movenpick," he added.
Yobek Enterprise which is founded by Berhane was established in 2000 engaging in import and distribution of electronic devises. In addition to that, since 2012, the company has joined the real estate sector. So far, the company has built business purpose buildings on 15,000sqm of land.
"The hotel would get 20pc to 25pc share of revenues," Berhane told Addis Fortune.
Read the complete story at Addis Fortune
——
See also:
---