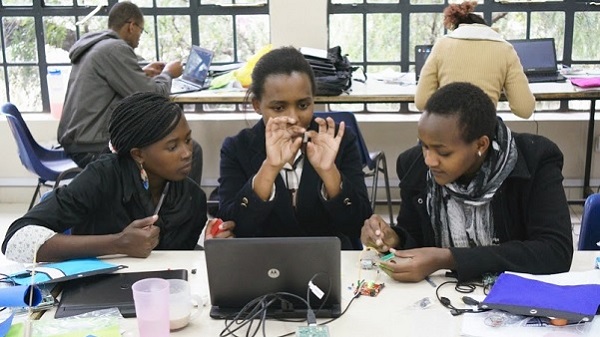 (Planet Earth Institute)–In order to achieve full and equal access to and participation in science for women and girls, and further achieve gender equality and the empowerment of women and girls, the United Nations General Assembly adopted resolution A/RES/70/212 declaring 11 February as the International Day of Women and Girls in Science. In honor of this day, Planet Earth Institute decided to turn the spotlight on five women and girls who are making a real difference in science in Africa.
(1) Jamila Abass, M-FARM (KENYA)

Many Kenyan farmers produce low-volumes of crops, which are bought and sold in local markets. However, farmers rely on buyers to provide information on how much they should be selling their crops for. After hearing about the plight of these farmers, Jamila Abass, a computer scientist from Kenya, decided to create M-Farm. Farmers can SMS M-Farm to get up-to-date market prices without having to rely on buyers. They simply text 20255 and an automated response will send information on 42 different crops including peas, avocados, and peanuts, and prices in five different markets. A truly helpful initiative!
(2) Susan Murabana, The Travelling Telescope (KENYA)

Kenyan astronomer, Susan Murabana, said that she developed a love of space when she attended a lecture on Africa's traditional astronomical knowledge while still at school. A couple of decades later, she co-founded The Traveling Telescope, a company that aims to help school students learn more about the cosmos. By immersing boys and girls living in rural areas in the wonders of outer space, Murabana hopes to promote the importance of science and technology in Kenya. Now, the company has a team of astronomers who travel across the country conducting educational tours and outreach activities, which include their most treasured accessory: the largest telescope in Kenya. We look forward to hearing more about the impact that Susan Murabana's work achieves!
(3) Julie Makani (TANZANIA)

Julie Makani, a Tanzanian researcher, is one of the most prominent haemotologists in Africa whose work on anaemia and Sickle Cell Disease has led to new understanding of the illnesses. She says that although Sickle Cell Disease is a major cause of infant mortality on the continent, there is little research around treatment options. Makani also notes that her objective is to 'invest in science and use science to improve health in a way that can be applied far beyond the SCD context'. Truly necessary research that can have a real impact on the continent
(4) Olivia Koburongo (UGANDA)

Ugandan native, Olivia Koburongo, is part of a team of engineers who invented a "smart jacket" that diagnoses pneumonia faster than a doctor. With the user-friendly Mama Ope kit, health workers place the jacket on the child, and its sensors will register sound patterns from the lungs, temperature and breathing rate. Given that sub-Saharan Africa accounts for half of pneumonia deaths among children worldwide, this innovation could help save many children's lives on the continent.
(5) Brittany Bull and Sesam Mngqengqiswa (SOUTH AFRICA)

17-year-old Brittany Bull and 16-year-old Sesam Mngqengqiswa are spearheading the launch of Africa's first private satellite into space in 2017. They are part of a group of high school girls from Cape Town, South Africa, who have designed and built payloads for a satellite that will orbit over the earth's poles scanning Africa's surface. What's more, once it is launched in space, the satellite will gather information on agriculture, and food security within the continent.
Source: Planet Earth Institute
---