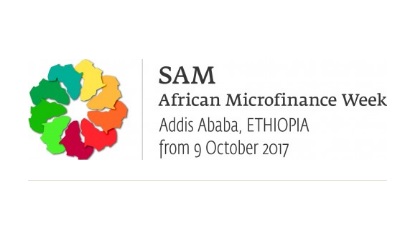 EVENT: African Microfinance Week 2017 (SAM 2017)
DATE: October 9-13, 2017
VENUE: Sheraton Hotel, Taitu Street, Addis Ababa, Ethiopia
(ADA Microfinance)–The African Microfinance Week (referred to as the SAM, based on the French acronym) is a major conference dedicated to the development of financial inclusion in Africa that takes place every two years, with the next SAM, that is SAM 2017, taking place from the 9th to the 13th October, 2017, at Sherato Hotel, in Addis Ababa, Ethiopia.
The main ambition of the SAM is to provide a unified African platform for exchange on the microfinance issues facing the African continent by bringing together all the professionals of the sector – investors, monetary financial institutions (MFIs), researchers, banks, networks, innovators, governments and others.
With main theme "Creating value for SMEs: a new frontier for inclusive finance," the SAM 2017 is a whole week conference to:-
meet the major players in inclusive finance in Africa: public and private investors, MFI directors, innovators, and researchers;
build new partnerships and strengthen current business relations;
extend and develop your network of contacts;
share innovative best practices;
accelerate financial inclusion on the continent.
To see the programs on each day of the week-long conference, click here (English).
Organizers of the SAM 2017
The SAM 2017 is organized by the African networks:
AMT (African Microfinance Transparency)
MAIN (Microfinance African Institutions Network)
AFRACA (Association Africaine du Crédit Rural et Agricole)
AEMFI (Association of Ethiopian Microfinance Institutions)
AMFI (Association of Microfinance Institutions – Kenya)
It is also organized by ADA with the support of the Luxembourg Cooperation.
These organizers aim to provide a unified African platform for exchange and dialogue on the microfinance issues of the African continent, while promoting the collaboration of all actors in inclusive finance.
Need even more details? Click here.
Source: ADA Microfinance
——
Other stories:
---