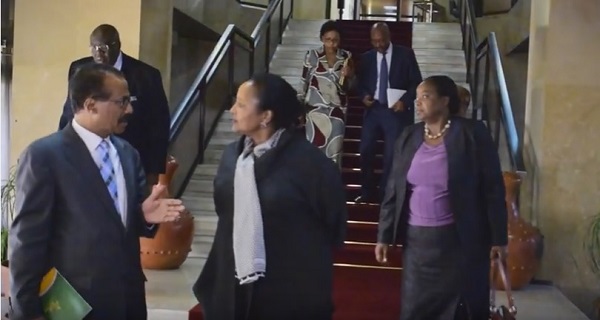 Ambassador Amina Mohamed courtesy call to Ethiopian Prime Minister

Cabinet Secretary Ambassador Amina Mohamed, Kenya's candidate for the Africa Union Commission Chairperson in the elections to be held in January 2017, addressing the press after a meeting with H.E. Hailemariam Desalegn, Prime Minister of Ethiopia on 30 November 2016 at the Menelik Palace.
—-
Ambassador Amina Mohamed,CBS, CAV, EGH, is a committed international civil servant who has a distinguished career in positions of leadership in both public and foreign service. She is the first African to be the chair of the global trade round at the 10th World Trade Organization Ministerial Conference held in Nairobi, Kenya one of the most successful conferences so far.
Besides being the first woman to have held the position of Foreign Minister (Cabinet Secretary) of Kenya, she was the first woman to have chaired the governing General Council of the World Trade Organization, the Dispute Settlement Body, the International Organization for Migration as well as President of the United Nations Office for Drugs and Crime.
She has served in strategic government positions and has been elected to key international positions. Her work experience spanning over twenty-six years, covers a broad spectrum of national and international assignments […]
---