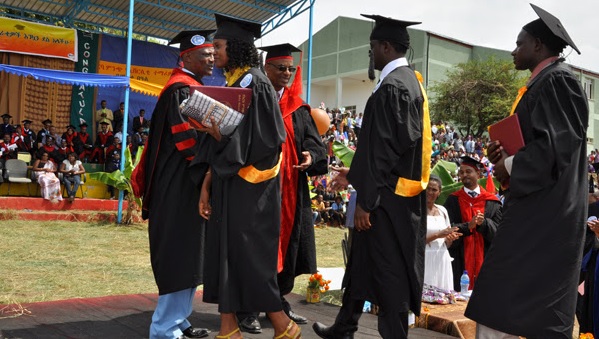 The 3rd batch of 46 'Doctors of Medicine' from College of Medicine and Health Sciences, Arba Minch University (AMU), has been graduated in a glittering ceremony at Main Campus on 26th November, 2016. Deputy Health Minister, Dr. Amir Aman, AMU top officials, kin of graduates and others graced the function.
Among three male top-scorers, Dr. Temesgen Endalew Legesse bagged the gold medal for notching up 3.63 CGPA; followed by Dr. Daniel Tamirat Cherkos, 3.60, and Dr. Abdulfetah Mohammad Sula 3.51. The only female graduate, Dr. Chaltu Nemomsa Beyene, was felicitated for earning 3.03 CGPA.
The ceremony got off to a flying start with Gamo Gofa Zone Cultural Band belting out famous ethnic numbers; but, it was Community School kids who stole the limelight for their congratulatory number.
AMU President, Dr. Damtew Darza, addressing graduates, informed that AMU's response in this millennium has been tremendous as university so far has produced 131 professionals in this program. He adds, three years back, maternal-child mortality was a great concern that has been considerably reduced. ''Our upcoming Referral-cum-Teaching hospital will complement government's move to improve health sector as it will enhance clinical intervention capacity level in this region.''
READ: AAU's School of Medicine Graduates First Batch of Doctors of Dental Medicine
Deputy Health Minister, Dr. Amir Aman, in his statistic-laced speech, said, ''Our five-year health strategy has successfully reduced maternal-child mortality; still every year over 11000 mothers are dying due to child-birth complications. And every year among 20 kids, 1 dies before age of five and 1 can't attain the age of one among every 14 kids.
He further revealed that 33 universities' annual capacity of enrolling doctors of medicine has gone up to 2500 which 20 years back was just 200 and now 1900 professionals are being produced every year. He adds, despite, having over 100000 health professionals in the sector that includes 36000 extension workers, communicable diseases like malaria, TB, HIV/AIDS are still pandemic.
Exhorting graduates on the occasion, Dr. Aman said, ''So you have a huge task at hands, but simply skill won't help, you got to be devoted, patient and considerate to your patients and profession alike. I know at times, it's demanding, but I am sure, you will make it because in your success, nation will grow and community enjoy perfect health.''
On CGPA scale, 26 graduates could break the jinks of 'three' and made it between 3-to-4; 14 of them notched up over 2, while six graduates had almost touched 3.
At the outset, Registrar of the University, Dr. Belete Yilma, gave the preview followed by new Dean of College of Medicine and Health Sciences, Dr. Tamiru Shibru Degaga, who first administered the oath of profession to 46 Doctors of Medicine and introduced them to the gathering.
In brief address, Dr. Tamiru said, ''Medical profession is committed to uphold life in its true sense and doctors play pivotal role in alleviating the suffering of humanity. So, graduation is the first step towards that larger goal and your responsible conduct will take you there.''
Source: AMU
——
Other stories:
---