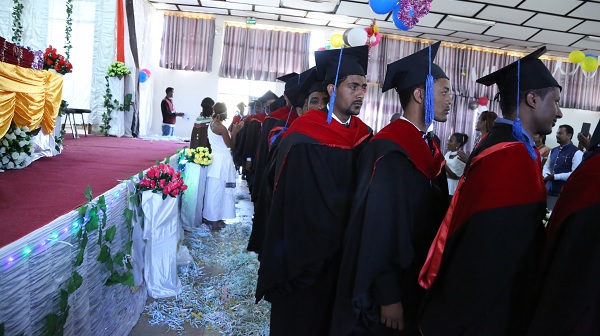 Asella, Ethiopia–Health Sciences College of Arsi University compound was specially colored on January 14, 2017 from dawn to dusk. It gave great pleasure to see smiling faces from specially dressed graduates, college staffs, guests and families. Punches of flowery chrysanthemum waved in the air expressing pleasure. The various color ribboned gown of medical doctors, midwifery, health officers, and clinical nurses added to the magnificence of the day.
Chief Executive Director (CED) of the college, Dr. Dejene Lemma, revealed that he readied 168 graduates among which 68 of whom were medical doctors. According to the CED, the 3rd batch medical graduates were fruits of concerted efforts of Asella Teaching and Referral Hospital and the Health Sciences College of Arsi University. He added the college had 11 departments with more than 1,300 staff members of the hospital as a whole and of which more than 165 were teaching staffs with 25 specialists including rare specialties like ophthalmology, radiology, pathology, and 71 physicians on their specialty study.
Congratulating graduates, families and all stakeholders, Academic Affairs Vice-president of Arsi University, Dr. Hirpo Teno urged the graduates to cope up with the dynamic discipline coupled with the fast growing information technology in the health science and its services. He also expressed that they should serve the public with honesty and in a committed manner while keeping secret of their customers confidential.
President of ASTU, Dr. Lemmi Guta, speaking on the joint graduation ceremony of Arsi University and ASTU, expressed that the graduates were shouldered huge responsibility to carry out using the theoretical and practical lessons they got from the college during their stay in the university. The president noted that the government has voraciously embarked on health service coverage expansion works which included health professionals training and education access. He urged the graduates to work to succeed the government objective in this regard responding to public health service demands from them.
Administration and Development Vice-president of Arsi University, Dr. Gezahegn Gurmu, delivering welcome speech on behalf of the Founding President, Dr. Tolla Berisso, to honorable guests, graduates, families and staff members on the ceremony congratulated the graduates, families and all stakeholders. Dr. Gezahegn revealed that fruits of hard work are always delicious. He added the transfer from world of education to world of work would be a joyful transition. He said the public was waiting to their impeccable services and that they should ready themselves for the goal the government has prepared them.
Dr. Gezahegn emphasized that the government concern for quality education and services have been sacking huge amount of human and material resources which the graduates have to pay reward by giving their people expected professional services in a committed and disciplined manner.
Guest of Honor of the ceremony His Excellency, State Minister of Ministry of Health, Dr. Kebede Worku, spoke that Arsi University should repeat Arsi Zone achievements in the field of world athletics and crop production in education, research and community service fields too. The State Minister disclosed that although the university has recently been established the progress it has shown in competent workforce production has been encouraging.
Dr. Kebede noted that his ministry has been diligently working with Ministry of Education and higher learning institutions in delivering quality health services to the public and that Asella Teaching and Referral Hospital and the Health Sciences College under Arsi University are working effectively as per the national plan.
Congratulating the graduates and families, Dr. Kebede called upon the graduates to serve their public with honesty and commitment. He pointed that health service is very much dependent on professionals and that they would work to the professional oath they made to the public on the graduation.
The graduation was colored and made lively with a cultural music band which showed cultural dances and songs.
Source: Arsi University
——
Other stories:
---