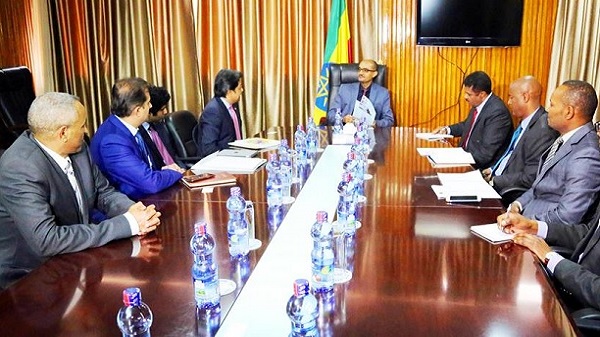 Established in 1920 and headquartered in New Delhi, ASSOCHAM is one of the apex trade associations of India, having more than 300 chambers and trade associations and serving more than 450,000 members from all over India.
ADDIS ABABA (MFA)–A delegation of the Associated Chambers of Commerce and Industry of India (ASSOCHAM), one of the largest and apex of trade associations of India, arrived in Addis Ababa to explore investment opportunities for Indian business people in Ethiopia.
State Minister of the Ministry of Foreign Affairs (MFA) of the Federal Democratic Republic of Ethiopia, Dr. Aklilu Hailemichael, received the ASSOCHAM delegation on January 9, 2018 at his office.
Head of the delegation and the President of ASSOCHAM, Mr. Sandeep Jajodia said his group wishes to invest in Ethiopia in two areas: integrated ferroalloy industry and steel industry. Noting that the industries would have contributions to the growth of the country in earning foreign currency and creating jobs, the President added the first industry focuses only on export while the second produces for local consumption.
State Minister Dr. Aklilu said, "With massive infrastructure, construction boom and our ambition to reduce foreign currency expenditure, a plan to produce construction materials locally is a sound idea." Commending the group's intention to engage in energy production Dr. Aklilu noted energy is one of the enabling factors for more investments, adding Ethiopia is known for its advocacy in green energy.
Source: MFA
——
Other stories:
---