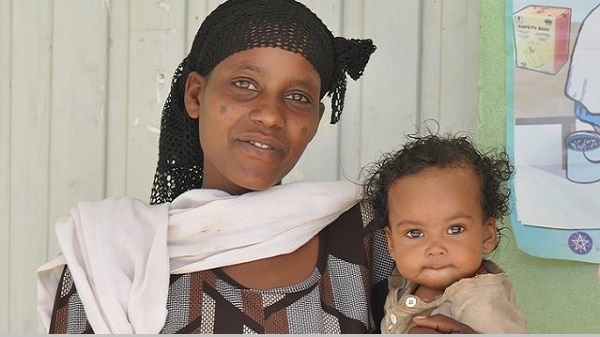 MARKHAM, Ont. (CCFC)–A project designed to improve early brain and child development has earned special recognition in Ethiopia for Christian Children's Fund of Canada (CCFC), with Ethiopian President Dr. Mulatu Teshome personally presenting the award.
The project, Maternal and Newborn Health, and Early Childhood Development in Rural Ethiopia, was funded through Grand Challenges Canada's (GCC) Saving Brains Initiative. GCC is funded by the Government of Canada and is dedicated to supporting Bold Ideas with Big Impact®.
Accepting the award was Dr. Feleke Tadele, CCFC Ethiopia's country director. The national award recognized CCFC for 'innovative practices in the design and implementation of a project on behalf of vulnerable populations' at the annual awards ceremony, organized by the Consortium of Christian Relief & Development Associations, in Addis Ababa, Ethiopia, December 28, 2017.
CCFC and its local partner implemented the program over two years, enabling about 2,500 parents to participate, benefiting 3,000 children from birth to three years of age in the town of Arsi Negele, in the southeastern region of Ethiopia. The project implemented Learning Through Play, an approach developed by Hinks-Dellcrest Institute in Toronto.
The program leveraged audio-visual communication technology using cost-effective and interactive ways to increase knowledge and skills of parents and caregivers in low-literacy and rural settings. Materials were developed, translated and presented in a local context to train parents, group leaders as well as social and health-extension workers. The materials tracked a child's growth using images and text, including an educational 30-minute presentation shown using a portable projector, displaying positive parental actions around early child development and maternal and child health.
"The impact of this project is amazing. I believe in the positive change it's bringing to families across Ethiopia and beyond," says Patrick Canagasingham CEO, CCFC. "Parents are learning more about their child's development, fathers are participating in their child's lives in a positive way and the children are having fun with their family. We're so honored to be awarded for this initiative that's changing lives. Thank you."
Source: CCF Canada
---