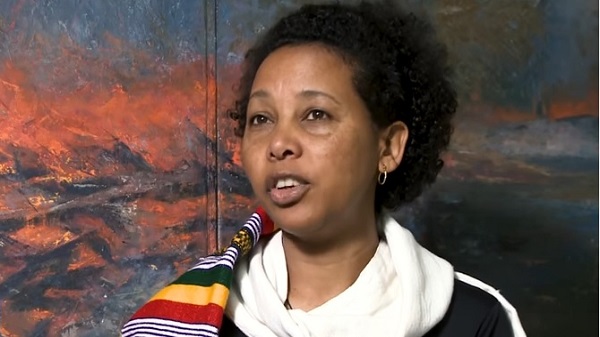 ADDIS ABABA (CGTN Africa)–As Ethiopia battles the effects of climate change, Birtukan Dejene is using her work to show how human activities are destroying the environment. The country's forests have become severely depleted, through people cutting down trees for firewood, farming and other commercial activities. Coletta Wanjohi reports for CGTN Africa.
Birtukan Dejene: Profile
Birtukan Dejene graduated from Addis Ababa University Alle School of Fine Arts and Design in 1996. After years of working as a graphic designer for various organizations and magazines, Birtukan is now happy to be a full time studio artist. She has exhibited in numerous local art shows in Addis Ababa and is known for her use of geometric figures to depict the human form.
Birtukan's characters have a haunting quality about them; an almost alien grace and sophistication. The women in her paintings always seem to know something that the onlooker does not, making us want to be let in on the secret. Birtukan's colors are earth-touched and warmed by the Ethiopian sun; you get a whiff of spices, making you dream of the exotic beauty of the land. (SOURCE: The Next Canvas)
Source: CGTN Africa
——
Other stories:
---