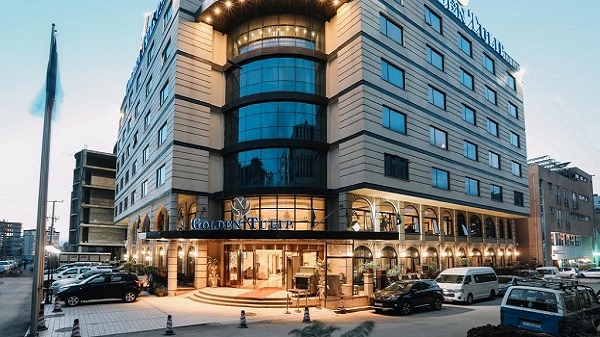 Kumneger Teketel of MICE is the main role player in convincing international brand name hotels such as Radisson Blu, Movenpick Hotels and Resorts, and the Golden Tulip to come to Ethiopia.
By Samuel Getachew (CNBC Africa)
Inside the headquarters of Ozzie Business and Hospitality Group, an office that is as small as an ordinary studio apartment in Bole, the exclusive neighborhoods of Addis Ababa, Kumneger Teketel is multitasking. He is seated comfortably in an office facing the magnificent landmark Bole Medhanealem Church with a view of the capital that is fast becoming a hub of skyscrapers. He is answering his phone that is ringing regularly, signing checks, mentoring young people who have come to have an audience with him and inquiring about the fresh-cut flower he sent to the mother of a colleague.
There are artefacts on his wall from the countries he has visited, many beautiful African artefacts and a portrait of him with the president of Ethiopia that is placed prominently in front of him and of others. He has had little sleep all week but then again, he rarely sleeps these days. He has become a pioneer in the local hotel industry where leading actors want to consult and be friends with him.
Green accredited conference destination in Ghana
Earlier in the week, he was in Accra, Ghana signing an agreement with the Ghana Tourism Authority to have his signature hotel and restaurant show in the West African nation. That was mere days before he was to announce a new milestone conference and spa resort in Bishoftu named Adulita Conference and Spa Resort Hotel PLC, with Carlson Rezidor Group, which will have 152 rooms, with all the facilities of international standard rooms, brand name international restaurants, and a luxury spa that will be managed by an international brand expected to be a colossal conference center.
"The hotel is being designed as a green accredited conference and wellness destination resort hotel with a botanical environment which will attract local and international Meetings, Incentives, Conference and Exhibitions  (MICE) and leisure travelers," Sami Getachew, the CEO of Adulita told a press conference earlier this week. "It will be worth 800 million birr and transform the city to a sought-after tourist and conference destination which will directly benefit the already existing hotels and other businesses in accordance with the city administration's policy".
Read the complete story at CNBC Africa
——
See also:
---