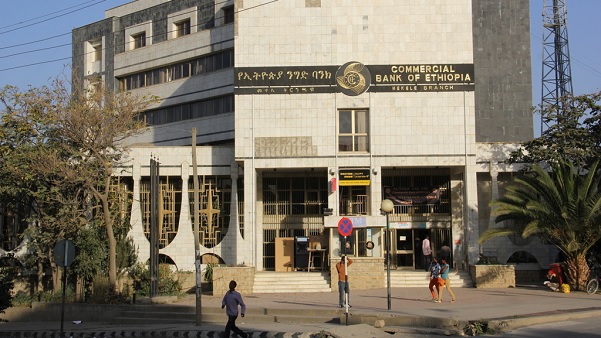 Commercial Bank of Ethiopia (CBE) President Mr. Bekalu Zeleke remarked that it has been possible to mobilize a record high deposit in the year.
ADDIS ABABA–The Commercial Bank of Ethiopia (CBE) has succeeded in mobilizing 76 billion birr deposit in the just concluded Ethiopian fiscal year. This was disclosed at CBE's 2016/17 fiscal year performance evaluation from July 24-29, 2017 here in Addis Ababa.
CBE President Mr. Bekalu Zeleke remarked during the occasion that it has been possible to mobilize a record high deposit in the year. Due to this historic achievement, the Bank's total deposit position has reached 364.9 billion, according to the president.
CBE's endeavor to make its services accessible has been very much successful during the year when 71 additional branches were opened to make the total number of branches 1,222. The deployment of additional ATMs, POS terminals, and other electronic payment systems has further enhanced accessibility, he noted.
Mr. Bekalu Zeleke pointed out that this year's performance has further confirmed that the Bank is well positioned to realize its five-year strategy, though sustained effort is needed in the remaining three years.
The President said the implementation of various HR, IT and other initiatives in the coming year are expected to add momentum to the fulfillment of the Bank's strategic objectives. In addition, the newly introduced Agent Banking Service (CBE-Birr) is a great potential in boosting the Bank's deposit mobilization strategy.
In the annual report she presented to the meeting, Mrs. Sosina Mengesha, Director of the Office of Strategic Management (OSM) stated that most of the financial and non-financial targets of the Bank have been achieved.
● SEMONEGNA ON SOCIAL MEDIA: Facebook| Twitter| Instagram| Pinterest
Accordingly, 76 billion birr deposit and USD 4.5 billion FCY was mobilized and 94.5 billion birr loan disburse to various development projects. Some 64.5 billion birr was collected from loans and bonds previously disbursed. The performances in Human Resources, E-payment and other strategic targets of the Bank have contributed a great deal to the fulfillment of the targets set in the Bank's five years strategy.
Besides, 2.7 million new customers were recruited and the number of total account holders has reached 15.9 million. During the year, 1.7 cards were delivered to customers and that makes total card holders 3.7 million, out of which 2.7 million are active.
According to Mrs. Sosina, CBE's Mobile and Internet banking active users have increased to reach 1.4 million and 25,683 respectively. With the deployment of additional 612 ATMs and 614 POS terminals, the number has reached 1,501 and 6,883 respectively, she added.
Source: Commercial Bank of Ethiopia
——
Other stories:
---