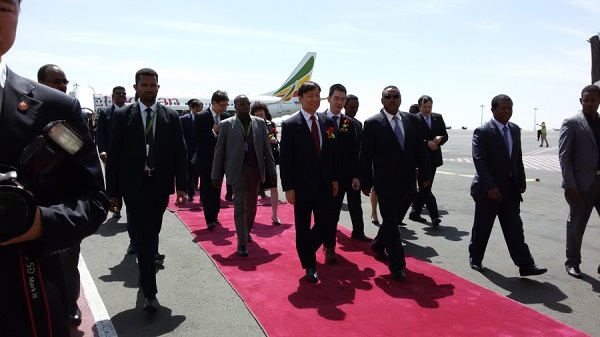 Addis Ababa (ENA)–The Vice President of the People's Republic of China Li Yuanchao has arrived in Addis Ababa for a two day official visit to Ethiopia.
Upon arrival at the Addis Ababa Bole International Airport, the Chinese Vice President was welcomed by Deputy Prime Minister Demeke Mekonnen and other senior diplomats.
Li Yuanchao is expected to meet with President Mulatu Teshome and Prime Minister Hailemariam Desalegn to discuss on ways of fostering the longstanding relation between China and Ethiopia.
Asian and Oceania Countries Affairs Director General at the Ministry of Foreign Affairs, Genet Teshome told ENA that the official visit of the Vice President would further bolster the government-to-government and party-to-party relation between the two nations.
READ: King Mohammed VI of Morocco to Visit Ethiopia
The visit by the Chinese official will further enhance the exchanges based on mutual benefits, the Director-General added.
Mr. Li Yuanchao stated that the visit will create an important opportunity for Chinese investors to engage more in areas of industrial parks development and expansion of railway lines in Ethiopia as China has a rich experience in the sectors.
It is also expected that the Chinese official will sign two agreements with the Ethiopian side providing for soft loan and financial grant that will help expand potable water services in the capital and build a railway academy, respectively.
Source: ENA
——
Other stories:
---