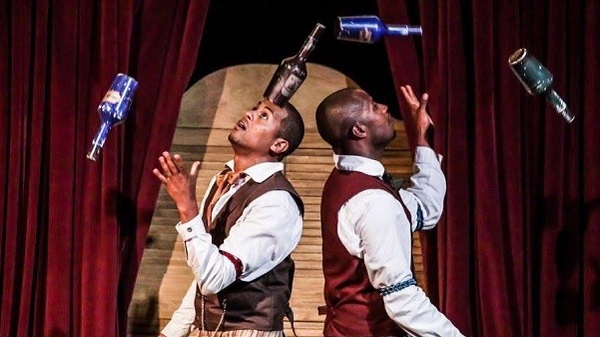 Bibi and Bichu, of Circus Abyssinia, are professional jugglers based in the UK with 11 seasons at Giffords Circus under their belts.
By Susan Mansfield (The Scotsman)
Jimma, Ethiopia, in the early 1990s. Two boys are watching TV. They watch transfixed as the acrobats of Cirque du Soleil tumble across the screen. They've never been to a circus, but now a new world is unfolding before their eyes. Bibi and Bichu know exactly what they want to do.
They are already jugglers. It began when they saw their gymnastics teacher juggling three oranges. "We just got fascinated, asked him to show us how to do it," says Bichu Tesfamariam. "Something pulled us in."
The boys used every spare moment to practice their juggling. They cut the toes off their socks and filled them with sand to make juggling balls. "We worked hard at school, because otherwise we'd be grounded and we wouldn't be able to practice," says Bibi. "Our grades were good, so our parents were happy." He flashes a big African smile. "Except they weren't happy about our socks."
This was no passing childhood daydream. Bibi and Bichu are now professional jugglers based in the UK with 11 seasons at Giffords Circus under their belts. They have appeared on stage and on TV, from CBeebies to the Millennium Dome, and English National Opera's Olivier award-winning Akhnetan, and recently, have been filming with Tim Burton on Dumbo.
Their own show, Circus Abyssinia: Ethiopian Dreams, is featuring at the Fringe. The excitement is clear on their faces. "We've put everything into this show," says Bichu. "Yeah, we're living the dream. We just can't wait to put it out there."
The brothers – Bibi is older, by 18 months – have always juggled together. Sitting next to each other in a cafe, they finish one another's sentences, and rarely speak about themselves in the singular. "Me and him" is a phrase that keeps coming up.
Although Ethiopia had almost no circus culture in the early 1990s, they were encouraged by their teacher who spotted their talent for juggling. As teenagers, they were part of the original line-up in Circus Jimma, and were cast in Shoe Shine, the award-winning theatre-opera by Ethiopian director Ato Abate Makuria.
Read the complete story at The Scotsman
——
See also:
---