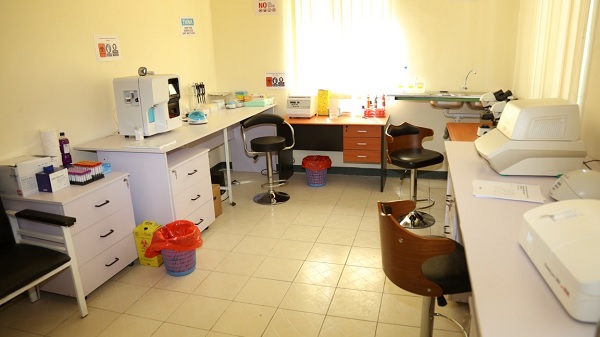 JIMMA, Ethiopia (JU)–Jimma University (JU) has inaugurated a new clinical research center at Agaro General Hospital. A good quality facility equipped with arts of the day instruments and materials has been put in place to facilitate the clinical research activities that has been carried and planned to be carried out at the center.
The facility according to Dr. Daniel Yilma, principal investigator at the center, is established with the financial and material supports of German Federal Ministry of Education and Research, the Principality of Monaco, Medicine Malaria Venture (MMV), the European and Developing Countries Clinical Trials Partnership (EDCTP) and Medical University of Vienna. The Jimma Zone and Agaro Town Health Bureaus and Agaro General Hospital staff members have also contributed their part for the realization of the research center. Dr. Daniel also highlighted that clinical trials are important to excel patient cares and improve health problem of the communities and the establishment of such centers in Africa will help to improve the quality of patients' treatment as trials are conducted in the very specific context of the communities.
Present on the occasion and the guest of honor of the event, Mr. Kora Tushune, Vice President of JU has underlined that the University has always been striving to serve the community. As part its effort to expand such services, it has established several research centers equipped to engage in need based and cutting edge research endeavors targeting real community problems.
Even though clinical trials and clinical research are crucial in answering specific questions about biomedical or behavioral interventions, including new treatments, most clinical trials are conducted in developed world and the proportion of clinical trials conducted in Africa is low. Improving health professionals and researchers skill and building state-of-the-art research infrastructures in developing countries is needed to conduct clinical trials according to the international standard. According to Mr. Kora, Jimma University has been working malaria clinical trial in collaboration with MMV since 2014 and the malaria clinical trial at Agaro General Hospital will help to boost the quality of malaria treatment and address one of the most prevalent public health challenges in Africa and particularly in Ethiopia.
Read the complete story at Jimma University
——
See also:
---