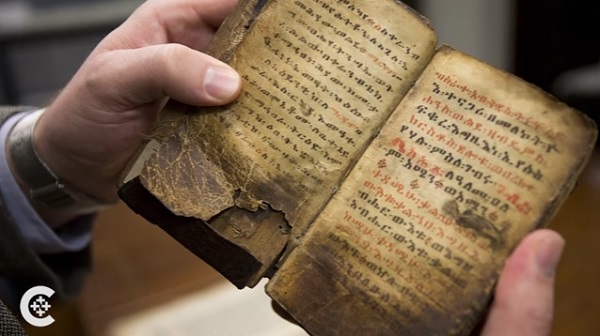 Washington, DC (CNS)–A massive donation of Ethiopian religious manuscripts to The Catholic University of America in Washington makes the school one of the largest holders of such texts outside Ethiopia.
The value of the donation, by Gerald and Barbara Weiner of Chicago, is estimated to be more than $1 million. The collection includes more than 215 Islamic manuscripts, 125 Christian manuscripts, and 350 so-called "magic" scrolls with prayers to protect the owner or reader from particular illnesses.
What makes the manuscripts valuable is that they're handmade, according to Aaron Butts, an assistant professor of Semitic languages and literature at Catholic University. What makes them rare, he added, is that such texts are rarely seen outside Ethiopia, and that the East African nation's rainy season often renders the books and scrolls unusable or illegible after repeated use. That so many texts — most of which date back to the 18th and 19th centuries, with a few even older — still survive, and in a usable condition, he told Catholic News Service, is "amazing."
"Every one of them is a treasure," Butts said.
The donation makes Catholic University the holder of the fifth largest collection of Ethiopian Christian manuscripts in the United States, and the largest collection of Ethiopian Islamic manuscripts outside of Ethiopia.
Read more about "Couple donates Ethiopian religious manuscripts…" on Catholic Philly
---