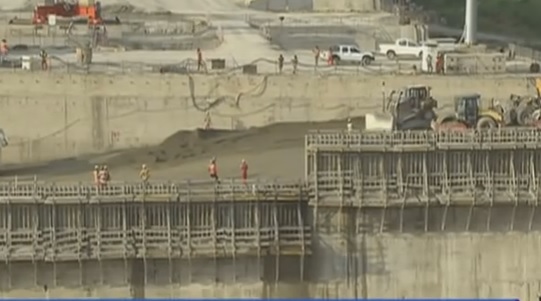 GERD will be used to create the continent's largest hydropower plant that will fill all demand, generating three times the country's current electricity production
By Caila Glickman (CFR) |
In a vicious dispute over water allocation of the Nile River, Ethiopia, Egypt and Sudan are wading through uncharted waters of international law. The dispute begins in Ethiopia's attempt to regain control of its contributory river, the Blue Nile, by building the Grand Ethiopian Renaissance Dam (GERD). However, the dam's legality is being questioned by both Egypt and Sudan—two downstream Nile states eager to maintain the status quo of water allocation.
Many believe the Nile River is sourced in Egypt, but it actually stretches from Burundi to the Mediterranean Sea. Egypt receives well over half of the river's water because the river flows north; however, its two biggest feeders—the White Nile and the Blue Nile—are located in Uganda and Ethiopia, two southern but upstream Nile states with limited access to the Nile's water.
READ: Ethiopia, UAE Conclude Investment Promotion, Protection Agreement
Historically, Egypt and Sudan have exploited the Nile through exclusive treaties that failed to include the upstream countries such as Ethiopia, Uganda, Kenya, and Rwanda. The main treaty, known as the 1959 Nile Waters Agreement, called for the unimpeded flow of Nile waters, but only included Egypt and Sudan in its negotiations and ratification. Egypt uses this treaty to object to the construction of the GERD. Sudan has essentially piggybacked off of Egypt's objections, as the current system of water allocation benefits the Sudanese.
Read more on Council on Foreign Relations
——
See also:
---