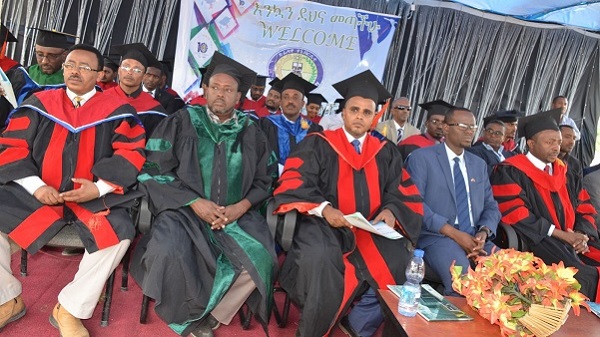 DIRE DAWA (DDU)– Dire Dawa University, in a colorful ceremony, has graduated 2,909 students in 32 different programs on July 1, 2017 with the presence of Dr. Samuel Kifle, State Minister for Higher Education, Mr. Ibrahim Usman, Mayor of Dire Dawa City Administration and board member of the University, and other respected delegates and students' families.
Out of the total number of graduates, 2,088 earned their undergraduate degrees and 19 earned their second degree while the remaining 802 were from Continuing and Distance Education.
The University has graduated post-graduates, medicine, anesthesia, and midwifery candidates, and textile students for the first time.
Dr. Yitbarek Getachew, Vice President for Academic Affairs of the University, congratulated the graduates and their families. In the meantime, he said the number of graduate programs and the enrollment capacity of the University are increasing continuously year to year. He added, as result, the University is producing a number of highly skilled manpower to uphold the growth and transformation of Ethiopia.
Dr. Samuel Kifle, State Minister for Higher Education, congratulated the graduates and he forwarded his message requesting the graduates to be loyal on their career, to stand against corruption and struggle to secure good governance across the country. Moreover, he advised them to play a vital role to accelerate the growth and transformation plan the country has put as well as to partake in the progress of democracy in the country.
Source: Dire Dawa  University
——
Other stories:
---