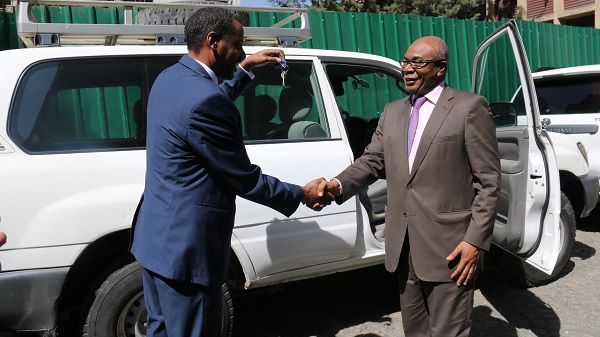 The vehicles will be used to benefit universities across the country which are conducting health and medical training/ teaching, according to the Ministry of Health.
ADDIS ABABA (WHO Ethiopia)– World Health Organization's Country Office in Ethiopia (WHO Ethiopia) Ethiopia donated six vehicles to the Federal Ministry of Health. The handover ceremony was held on December 15 at the Ministry of Health compound.
Prof. Yifru Berhan, Minister of Health Ethiopia, revealed that the vehicles will be used to benefit universities, conducting specialty medical training. The Minister thanked WHO for the donation and he underlined that this is part of WHO's continuous support towards improving the country health system.
Dr. Akpaka Kalu, Representative to WHO Ethiopia on his part said that WHO's support will continue to fill the gaps towards improving the country's health system strengthening effort. Currently there are about 45 universities in the country which has been contributed to significantly increased number of health professionals.
Source: WHO Country Office in Ethiopia
——
Other stories:
---