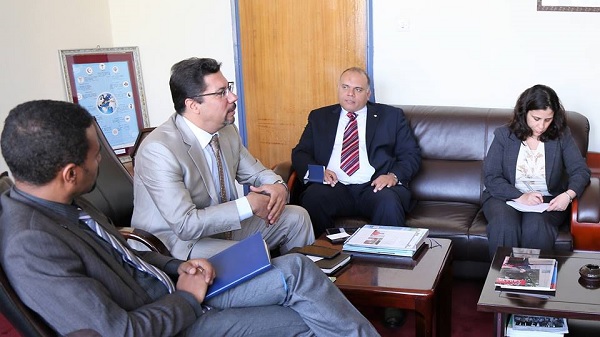 ADDIS ABABA–A four-member Egyptian delegation headed by Abou Bakr Hefny Mahmoud, Egyptian Ambassador to Ethiopia and Permanent Representative to the AU & UN ECA, held a meeting with the Ethiopian Chamber of Commerce and Sectoral Associations (ECCSA) in Addis Ababa on December 1, 2017.
Melaku Ezezew (Eng.) and Endalkachew Sime, President and Secretary General, respectively of ECCSA received the delegation and two sides discussed on various business issues that help further increase the bilateral business relation that exists between the business communities of the two sisterly countries. 
Ambassador Abou Bakr Hefny Mahmoud stated that Egyptian investors have interest to engage in the area of livestock, agriculture and industrial parks development. Pointing out that there are fish farms in Ethiopia, the Ambassador disclosed that there is robust drive to expand the livestock farm on a more scientific basis. Egypt is one of the biggest importers of meat in the world and Ethiopia would be Egypt's first client, the Ambassador added.

Welcoming the delegation for the interest shown to doing business with Ethiopia, Eng. Melaku and Ato Endalkachew provided a short briefing about the available investment opportunities and doing business potentials in Ethiopia as well as the duties and responsibilities of ECCSA. 
ECCSA officials also provided an explanation that there is the opportunity or platform for Egyptian companies to invest either in partnership or as joint venture with Ethiopian counterparts in textile, farms, and agro-processing. It was also briefed that since agro-processing sector is still at its preliminary stage, and there is an integrated agro-processing industrial park, the businesses of the two countries would be able to join their respective potential in the area.
Stating that Ethiopia and Egypt have bilateral relation that has been dated many years back, the two sides have witnessed the Egyptian delegation's visit as a crucial part in escalating this longstanding relation into a level of economic cooperation.
So far, Cairo-based Elsewedy Electric Group, and some other Egyptian companies are operating in Ethiopia, it was learned; and the the current trade balance between Ethiopia and Egypt is approximately 1billion USD.
Semonegna.com
——
Other stories:
---