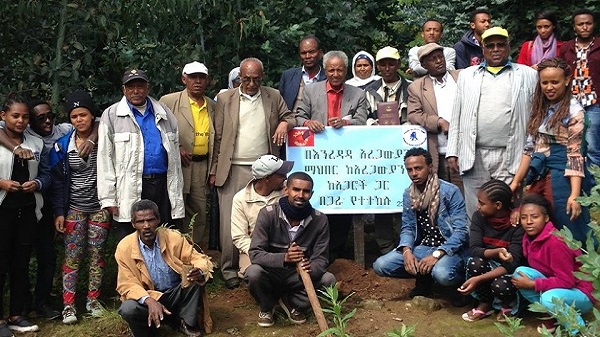 Close to 100 Ethiopian elderly citizens have found solace at Eneredada Elder People Association located on the western suburbs of Addis Ababa where they heartily engage in weaving as they share captivating stories.
ADDIS ABABA (Xinhua)–Tiru Alemayehu grew up on the outskirts of Ethiopian capital, Addis Ababa and has witnessed its stellar transformation from a nondescript administration post to a well-known metropolis.
The 76-year-old mother of one has a strong attachment to her country's rich and authentic culture that has defied foreign influences and onslaught linked to rapid urbanization.
Tiru belongs to the growing army of Ethiopia's aging population that have enlisted in day care centers across the country where they band together to share experiences and perform centuries old tasks like weaving fabrics as a means to beat loneliness and poverty.
The bubbly matriarch is a member of Eneredada Elder People Association established in 1997 to provide new lease of life to growing ranks of Ethiopia's senior citizens through psycho-social support and income generating activities like weaving, baking and waste recycling.
Eneredada, an Amharic word meaning helping each other, is currently the embodiment of novel and home-grown solution to deprivation and loneliness that often blights senior citizens in Ethiopia and Africa at large.
Tiru and close to 100 elderly peers have found solace at the Eneredada care center located on the western suburbs of Addis Ababa where they heartily engage in weaving as they share captivating stories.
"So far, I feel contented while at this center where we band together, share nice stories from the past and spin the yarn to make cotton fabrics for sale in the local market and overseas," Tiru told Xinhua during a recent visit to the elderly people's care center.
RELATED: Sister Zebider Zewdie: A Mother of 1.5mln Ethiopian Children Youth and Elderly
The former small business owner used to live in a government house in Addis Ababa before relocating to the care center where her prowess in weaving has won her accolades.
"It feels good to rediscover your passion in a timeless crafts like weaving that is an integral part of our culture. This activity has strengthened our bonds as old people while revitalizing our mental and physical stamina," said Tiru through a translator.
At the Eneredada Elder People's Association care center in western parts of Addis Ababa, lasting bonds of friendship are created and money churning crafts are nurtured.
Senait Dinku, General Manager of Eneredada Elder People Association, told Xinhua its 100 plus elderly residents have rediscovered their passion for spinning, weaving and blending of indigenous spices.
"These income generating activities have sustained us while enabling us to reach out to abandoned elderly people in our community. Our future plan is to expand to other suburbs within Addis Ababa and if possible to other growing cities in the country," said Senait.
Read the complete story at Xinhua
---