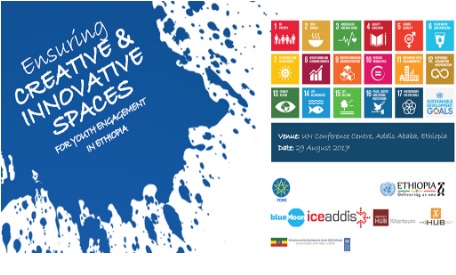 EVENT: Youth Forum, by UN in Ethiopia & the Government of Ethiopia
THEME: Ensuring innovative and creative spaces for youth engagement in Ethiopia
DATE: August 29, 2017
VENUE: UN Economic Commission for Africa (ECA) Compound, Addis Ababa, Ethiopia
ADDIS ABABA–The United Nations in Ethiopia in collaboration with the Government of Ethiopia and other stakeholders has organized a Youth Forum under the theme, Ensuring innovative and creative spaces for youth engagement in Ethiopia.
The forum will be held at the Africa Hall in the United Nations Economic Commission for Africa Compound on 29 August 2017 from 09:00 to 17h00.
This forum will bring together around 200 young Ethiopian youth from various backgrounds to share experiences and brainstorm around some of the opportunities and challenges facing youth in the country and recommend innovative approaches to develop creative space and centers for youth engagement.
The forum links to the African Union declaration of 2017 as the year of "Harnessing the Demographic Dividend through Investments in the Youth."
Knowledge Café is an interactive mechanism used primarily to understand or confirm an understanding of themes and patterns of collective thoughts and opinions among a group of individuals. Knowledge Café involves three thematic areas: knowledge, youth spaces and startups .
Participants are typically representatives of the segment(s) where requirements, thoughts and opinions are elicited. One lead facilitator can effectively work with 20 participants; the number can be increased but that typically requires longer hours and possibly additional facilitators.
Participants should come from different socio-economic, educational and geographical locations and backgrounds. Gender parity is also to be taken into account hen selecting participants.
Continue reading this story (about the format and partners) at UN in Ethiopia
——
See also:
---