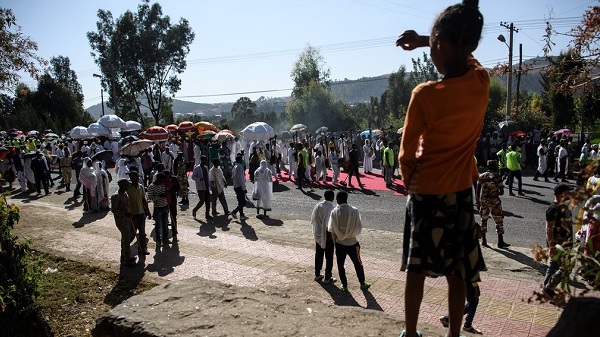 Last week millions of Ethiopian Orthodox Christians celebrated the feast of Timkat (Epiphany), the most important holiday for the Ethiopian Orthodox faithful. Timkat began on January 18th and was celebrated for three days.
By Carl Court/Getty Images (The Guardian) |
The annual Timkat festival, an Orthodox Christian celebration of Epiphany, remembers the baptism of Jesus in the Jordan river. During the festival, tabots, models of the Ark of the Covenant, are taken from churches around the city of Gondar and paraded through the streets to Fasilides Bath.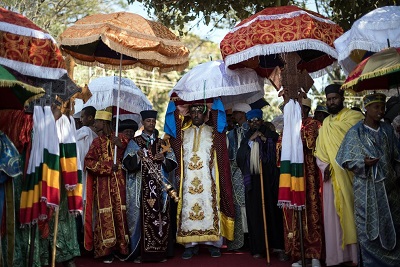 Orthodox priests carry a tabot, a model of the Ark of the Covenant, on a procession through Gondar (PHOTO: Carl Court/Getty Images/The Guardian)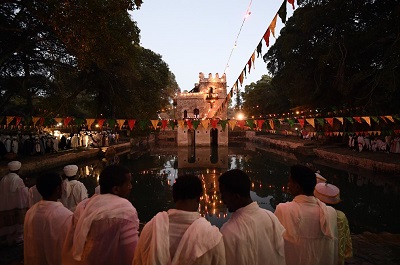 Members of the clergy attend mass at Fasilides Bath (in the Town of Gondar), a swimming pool filled specially for the occasion (PHOTO: Carl Court/Getty Images/The Guardian)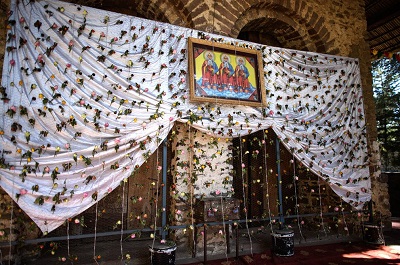 A picture of the three kings is displayed on cloth decorated with flowers at Debre Birhan Selassie church (PHOTO: Carl Court/Getty Images/The Guardian)
Some media coverage about the feast of Timkat (Epiphany)
Timket Festival 2017
Ethiopian Christians celebrate Epiphany
Russian Orthodox believers take icy plunge on Epiphany day
Ethiopian orthodox Christians mark the baptism of Jesus Christ
World of Photos, Jan 22
---