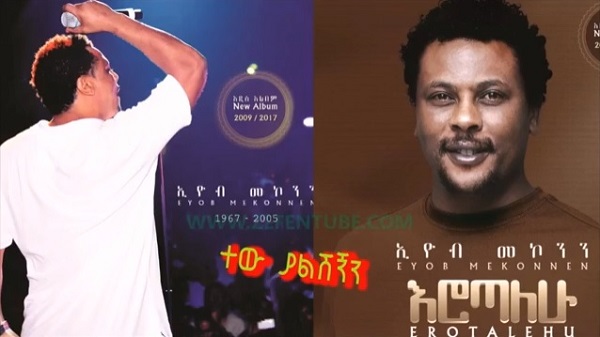 A new music album by Eyob Mekonnen was released in the second week of January 2017 after three years of the death of the Ethiopian Reggae star.
Eyob Mekonnen's 'Erotalehu' album consists of new 14 songs that were arranged by different composers. All except two were recorded by Eyob before his death. The two songs feature other artists who voices resemble.
During the pre-release announcement, his new single 'Tew Yalshign' was also released.
Eyob's debut album Ende Kal came out in 2007 to great national acclaim. This album is still popular throughout Ethiopia.
Born in 1975 in the small town of Jijiga, in eastern Ethiopia, Eyob Mekonnen joined a five-person band called the Zion Band, which was described as having a "reggae beat with a distinctive Ethiopian cast". The band became a fixture at popular clubs in Addis Ababa, performing opening acts for popular singers. His musical style was unique, not only mixing popular music with reggae, but also counting Ali Birra as one of his major influences, alongside Bob Marley. In 2010, he released his first album, Ende Kal. Although lukewarmly received by audiences at first, as it differed from the often synthesized, electronic music that had prevailed since the era of the Derg and the demise of the big bands of the Haile Selassie era. Slowly, however, the album gained a following and "great national acclaim".
Read more about "'Erotalehu'  by Eyob Mekonnen" on Capital Ethiopia
——
See also:
---