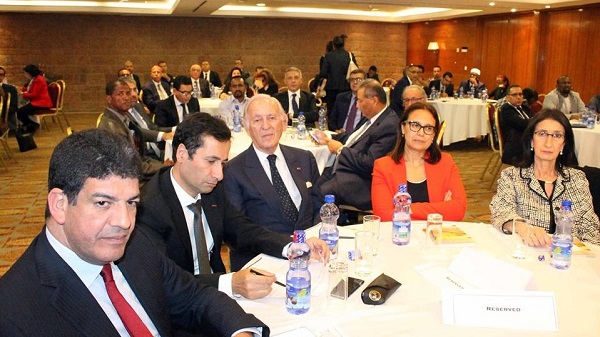 Addis Ababa (MFA)–Following his Highness, King Mohammed VI's state visit to Ethiopia, an Ethio-Morocco business forum was held at Hilton Addis on Friday (November 18, 2016). The business forum hosted by Ministry of Foreign Affairs Business Diplomacy Directorate General in Addis Ababa, laid the first foundation to the two countries' trade and investment relations. The occasion brought together more than 40 investors and representatives of businesses from both countries.
State Minister Mr. Regassa Keffale in his opening speech said the discussion is an important platform where the two countries could strengthen their bilateral ties. With the recent opening of Ethiopian mission to Morocco, he said the relations between Ethiopia and morocco is now getting momentum, adding that Ethiopia is ready to receive Moroccan investors.
Head of the Moroccan business delegation, Ms. Miriem Bensalah-Chaqroun declared that this was the inception of a new economic relation, adding:  "we need to strengthen our Economic ties". The two countries share common grounds of economic growth, more investment and local jobs, Ms. Miriem added.  He further said non-tariff regimes, structural and institutional problems related to economic connectivity are areas where the two could work on.
READ: Chinese Vice President Li Yuanchao: Two-day Official Visit to Ethiopia
Commissioner Mr. Fitsum Arega in his presentation on Ethiopia's conducive business environment noted that Ethiopia has clear vision, strategy and promotes specific sectors; with a fast growing economy huge consumer market; untapped natural resource; trainable and cheap labor force; and ample infrastructures to ease connectivity in trade.  Moreover, he said the country offers duty-free market access through agreements to US, Europe and East and Southern Africa; and has put attractive incentives including tariff-free import and tax holidays. The commissioner also invited the Moroccan investors to build a private industrial park.
Mr. Solomon Tadesse from the Ethiopian Tourism Organization (ETO) on his part briefed the delegation on Ethiopia's tourist attractions, in which he said 10 of these are UNESCO World heritage Sites. He further called on the Moroccan business delegates to invest and transfer their rich experience in tourism development.
Source: MFA
——
Other stories:
---