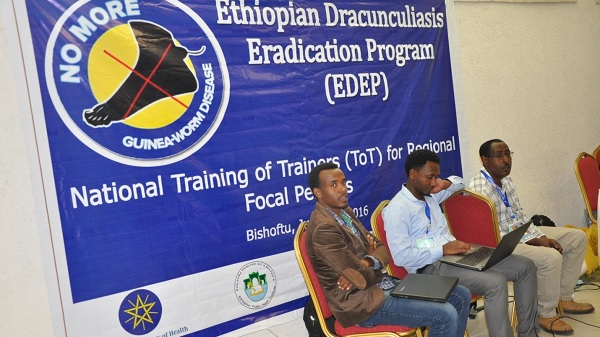 ADDIS ABABA (ENA)–Ethiopia has launched a national communication campaign aimed to increase awareness about the guinea-worm disease and encourage reporting of suspected cases as part of the eradication program.
The campaign themed "let our journey not to be interrupted by guinea-worm" launched today with the presence of high-level health experts and stakeholders.
According to Carter Center Ethiopia, from January 1 to  October 31, 2017, 12 cases of guinea-worm were reported on humans in Ethiopia, mostly in Gambella Regional State.
Honorable World Laureate Dr. Tebebe Yemane Berhan, goodwill ambassador for Guinea Worm Eradication Program in Ethiopia, South Sudan, Chad and Mali, an international campaign by the Carter Center, urged the need to address the root cause of the disease.
Since the disease mainly comes from lack of clean water supply, all stakeholders have to fight for this service for everyone in need within a short period, he said.
Awareness creation among all Ethiopians has to be prioritized to successfully complete this campaign, he underlined.
The Ethiopia Ministry of Health, in partnership from the Carter Center and others lead the Dracunculiasis (guinea-worm) eradication program in the country.
Dr. Dean G. Sienko, Vice President for health programs at the Carter Center said during the occasion that public understanding and awareness of guinea-worm disease is essential throughout Ethiopia to end the case.
People need to know what guinea-worm looks like and reporting any suspicious condition to health authorities immediately, he noted.
"We have an opportunity to eliminate guinea-worm transmission in Ethiopia once and for all. Let us all embrace this communication campaign as an effective tool to get this job done", Dr. Sienko emphasized.
Guinea-worm disease is a parasitic infection contracted when people consume contaminated water.
Source: ENA
——
Other stories:
---