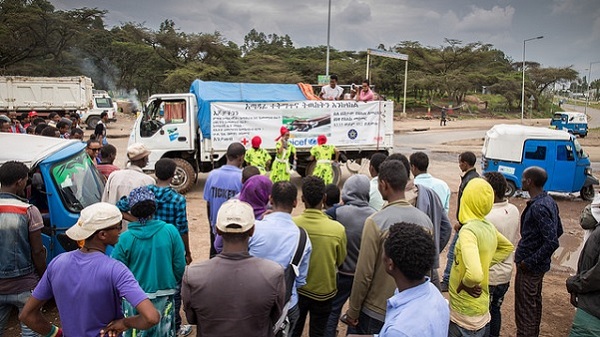 Ethiopia's federal authorities have deployed 500 nurses and 68 doctors to fight the diarrhea outbreak, in addition to 700 trained health officers, president of Somali Regional State told VOA's Amharic service.
By Henok Fente, Salem Solomon & Eskender Frew (VOA) |
Ethiopia has declared an outbreak of acute watery diarrhea, also known as AWD, in the country's Somali region, where people are already struggling to cope with a persistent drought.
Dr. Akpaka Kalu, the World Health Organization (WHO) representative to Ethiopia, told VOA on Friday that 16,000 cases of AWD had been recorded in the region since January.
The total number of deaths is uncertain.
Somali Regional President Abdi Mohamoud Omar said Friday that 19 children had died of AWD in Dollo zone, an area near the southern border with Somalia. This week, residents of a remote village, Qorile, told VOA's Somali service that dozens had died and more than 700 had received treatment for the illness.
Omar said some of the treatment centers set up to address the outbreak were making headway.
"We have managed to control the worst effects of the disease by establishing temporary emergency medical posts in remote villages," he said.
Federal authorities have deployed 500 nurses and 68 doctors to fight the disease, in addition to 700 trained health officers, he told VOA's Amharic service.
Additionally, the WHO has deployed teams on the ground and set up treatment camps to address the outbreak.
Kalu said a U.N. team regional coordinator, WHO representatives and a few others would go to the Somali region, also known as the Ogaden, on Saturday to assess the situation.
"From WHO, for example, we have nearing 40 people on the ground right now. A team went there today in addition to the team that's been on the ground for some months now," he said over the telephone. "So we are there working, supporting them to bring it under control."
Managing the diarrhea outbreak

Ethiopian officials insist on describing the outbreak as one of AWD, not cholera, which has similar symptoms.
On Monday, a woman who told VOA Somali that she had lost five relatives to cholera and that hundreds of people were suffering from the disease was reportedly arrested by Ethiopian authorities. She was released Wednesday.
Read the complete story at VOA
——
See also:
---