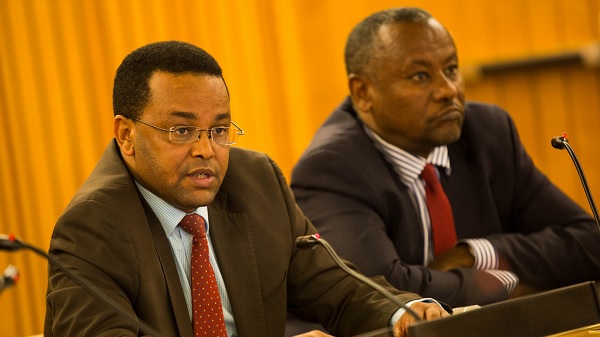 NEW YORK, NY–Ethiopia is implementing a Financial Inclusion Strategy that transforms the cash economy to digital transaction, says the National Planning Commission.
Ethiopia's Minister of National Planning Commission, Dr. Yinager Dessie, participated on the side event titled "Eradicating Poverty, Promoting, Prosperity and Empowering Women through Financial Inclusion." Ethiopian Permanent Mission to the UN co-organized the event with Permanent Mission of Belgium, Permanent Mission of the Republic of Peru, the Organization for Economic Co-operation and Development (OECD), the World Bank Group (WBG) and the United Nations Capital Development Fund (UNCDF). On the event, Dr. Yinager presented Ethiopia's experience with regards to the financial inclusion of the larger section of the population, especially women and said the government has implemented a scheme called "Financial Inclusion Strategy," which has been included in the country's Growth and Transformation Plan (GTP). The Strategy, Dr. Yinager said, aims to transform the cash economy to digital transaction.
The World Bank Group has been supporting the National Bank of Ethiopia (NBE) in designing as well as launching the country's Financial Inclusion Strategy. Drawing on data provided by the NBE and the Global Findex Survey, a WBG team has provided extensive technical analysis, facilitated consultation workshops, and helped to develop a coordination mechanism for the National Financial Inclusion Strategy (NFIS). After the launch of the Strategy, the next stage would be for the WBG team to help implement the coordination mechanism and M&E system for NFIS implementation.
● SEMONEGNA ON SOCIAL MEDIA: Facebook| Twitter| Instagram| Pinterest
"A Women Development Package" is another area of intervention the Ethiopian government is implementing in order to support women to be beneficial from the economic development the country is registering. The Package was first launched as "Ethiopian Women Development and Change Package" in 2007 by the Minister of Women's Affairs to address the various social, political and economic problems Ethiopian women face and support them in building their capacity so as to curb multifaceted issues they face in rural and urban areas of the country.
Semonegna.com
——
Other stories:
---