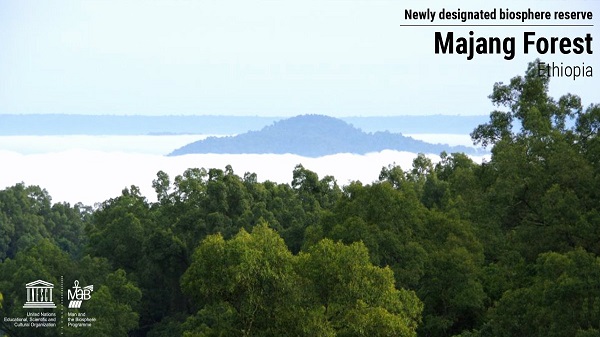 The Ethiopian Majang Forest, located in Gambella Regional State of the country, has been listed as a new UNESCO Biosphere Reserve.
PARIS (UNESCO)–The International Coordinating Council of the Man and the Biosphere (MAB) Programme meeting in Paris has added 23 new sites to the World Network of Biosphere, including seven in Africa and one in Ethiopia. These additions were made during the MAB Council's meeting in Paris from 12 to 15 June, 2017.
Biosphere Reserves are learning places for sustainable development whose aim is to reconcile biodiversity conservation and the sustainable use of natural resources. New sites are designated every year by the MAB Council which is composed of representatives of 34 elected UNESCO Member.
New Biosphere Reserves of the following countries joined the network this year: Benin, Togo, Costa Rica, Denmark, Dominican Republic, Haiti, Ecuador, Peru, Ethiopia, Germany, Honduras, Italy, Japan, Kazakhstan, Myanmar, Niger, Paraguay, Portugal, Russian Federation, Serbia, South Africa, and Sudan.
The Ethiopian Majang Forest has also been listed as a new UNESCO Biosphere Reserve. The property is located in the west of the country (Gambella Regional State); this biosphere reserve includes Afromontane forests in one of the most fragmented and threatened regions in the world. The landscape also includes several wetlands and marshes. At altitudes above 1,000 metres, vegetation chiefly consists of ferns and bamboo, while palm trees cover the lower areas. The biodiversity rich region is home to 550 higher plant species, 33 species of mammal and 130 species of birds alongside a human population of about 52,000.
Source: UNESCO
——
Other stories:
---