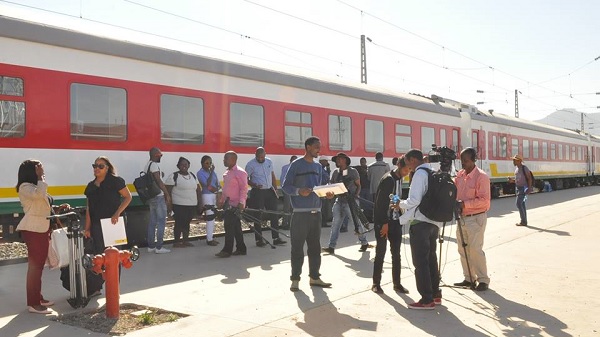 Ethiopia's $3.4 billion new railway link offers a once-in-a-generation chance to equitably distribute surging land values.
By Tom Gardner (Next City)
Dire Dawa in eastern Ethiopia is a nostalgic city. Though the old train station is shuttered, each day at noon, its siren still rings out; residents complained a few years ago when the familiar sound briefly stopped. In the French-designed, colonial-style district around the station, the crumbling villas seem as trapped in the past as their aging occupants: erstwhile employees of Ethio-Djibouti Railways, which fell into disrepair and was eventually abandoned in the early 2000s. "It was a very beautiful city," sighs Nigussie Lemma, a 79-year-old engineer who once plied his trade in the nearby factories along the historic railway. "I feel very sad these days when I compare the reality then with how it is today. I feel a lump in my throat."
But step away from the old quarter and this sepia-tinted past is soon shoved aside by the present. Dire Dawa is today a city on the make. A new $3.4 billion, 466-mile rail line connecting the Ethiopian capital, Addis Ababa, to neighboring Djibouti, now glides past an industrial park encamped on the surrounding plains. Seven miles west of the old train station, a new one rises from the desert while a noisy construction boom kindles the city's once sleepy fringes. A plot of land here costs twice what it did just a couple of years back. Deputy Mayor Abdella Ahmed expects the city's population to more than double, reaching one million, within the next decade.
The revival of Dire Dawa is part of a bigger story, one that can be found all along the railway to Addis Ababa and even further afield, as countries across Africa resuscitate old colonial train routes in the hope of spurring industrialization, urbanization and economic growth. "Cities are where productivity happens," says Paul Collier, a development economist. "But to work, the cities themselves need to be connected to something larger. Ethiopia is a country where the government really grasps the importance of physical connectivity."
The new railway is a key component of a hugely ambitious effort to catapult the country of nearly 100 million people to middle-income status by 2025 by linking the landlocked capital to the sea, as well as dramatically lowering transport costs for imports and exports. But as explains Dr. Getachew Betru, former CEO of the state-owned Ethiopia Railways Corporation, the vision is as much about urban development as freight logistics and transport times.
Read the complete story at Next City
---