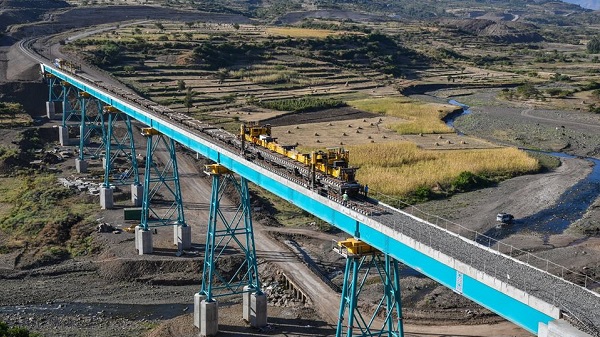 Ethiopia will utilize the new railway link to Djibouti infrastructure for both cargo freight and passenger rail.
By Amina Accram (SABC) |
Ethiopia will operate its first trans-boundary railway network in May this year.
The railway link will connect Ethiopia's capital Addis Ababa to Djibouti in the north.
The landlocked country will utilize the new railway infrastructure for both cargo freight and passenger rail.
It will also massively boost its economy as Djibouti is the busiest port in the horn of Africa. Ethiopia says the project cost more than 4 billion USD.
It partnered with China, Turkey and other countries to get loans and get the project completed. Ethiopia has forged ahead with plans to build a trans-African railway line.
China a key partner in Africa's infrastructure build program has laid the foundation for a shorter and faster version of the Cape-Cairo rail line.
China's version will begin with a line that runs from Ethiopia and South Sudan to the Great Lakes states in the South.
Ethiopia has already started this project and has just completed its first cross boarder railway line that links to Djibouti.
Project manager for the Ethiopia Railway Corporation, Mekonnen Getachew, says: "This project is a fully electrified and environmentally project and it's constructed by three phases and the whole 656 km is within the Ethiopian boarder and the other 100 km is in the Djibouti boarder and total cost is 3.4 billion USD for the 656km and 450 million USD in the Djibouti side. Now the project is already completed and now we are on the trail basis."
The project manager says the railway line project was completed on time.
"We have a total of 16 stations up to Djibouti port. These are the wagons, passenger wagons, wagons for containers, old tank wagons, a total of 1171 components have already been imported and now after two months we are ready to start"
Read the complete story at SABC
——
See also:
---