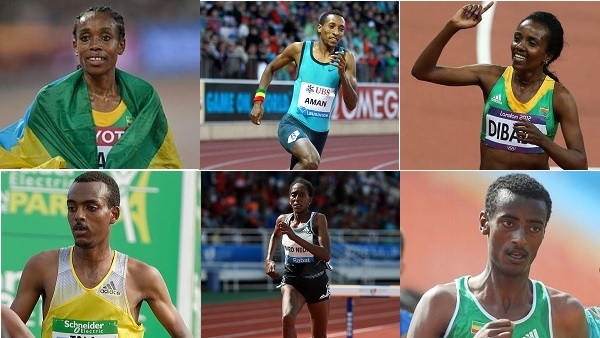 Kenenisa Bekele has left out as Ethiopia names 40-member team for the upcoming 2017 IAAF World Championships in London.
ADDIS ABABA (FBC)–The Ethiopian Athletics Federation (EAF) has announced, on a press conference held on July 25, 2017, a 40-member athletics team that will represent the country at the 16th edition of the IAAF World Championships scheduled to take place next month (August 4 to August 13, 2017) in London, UK.
The long-distance runner and current world and Olympic record holder in both 5,000m and 10,000m tracks, Kenenisa Bekele, rules out himself from the selection due to current performance status, per his own words.
"I'm not fit to compete at the event," Kenenisa said.
In related news, Athlete Tirunesh Dibaba, who was rumored to be competing on marathon event, will rather compete on 10,000m along with Almaz Ayana and Dira Dadi.
List of Athletes named to represent Ethiopia:
● MEN
· 800m: [1] Mohammed Aman, [2] Mamush Lencho
· 1,500m: [1] Aman Wote, [2] Samuel Berhanu, [3] Teresa Tolosa
· 3000m steeplechase: [1] Getnet Wase, [2] Tesfaye Seboka, [3] Tesfaye Diriba
· 5,000m: [1] Muktar Edris, [2] Selemon Barega, [3] Yomif Kejelcha, [4] Hagos Gebrhiwet
· 10,000m: [1] Abadi Hadis, [2] Jemal Yimer Mekonnen, [3] Anduamlak Belehu
· Marathon: [1] Tamirat Tola, [2] Tsegaye Mekonnen, [3] Yemane Tsegaye
● WOMEN
· 800m: [1] Habitam Alemu, [2] Kore Tola, [3] Mahlet Mulugeta
· 1,500m: [1] Genzebe Dibaba, [2] Gudaf Tsegay, [3] Besu Sado, [4] Fantu Worku
· 3000m steeplechase: [1] Sofia Assefa, [2] Etenesh Diro, [3] Birtukan Fente
· 5,000m: [1] Almaz Ayana, [2] Genzebe Dibaba, [3] Senbere Teferi, [4] Letesenbet Gidey
· 10,000m: [1] Almaz Ayana, [2] Tirunesh Dibaba, [3] Dira Dadi
· Marathon: [1] Berhane Dibaba, [2] Shure Demise, [3] Aselefech Mergia, [4] Mare Dibaba
· Race Walking: [1] Yehualaye Belete, [2] Ayalnesh Dejene, [3] Askale Tiksa
Semonegna.com
——
Other stories:
---