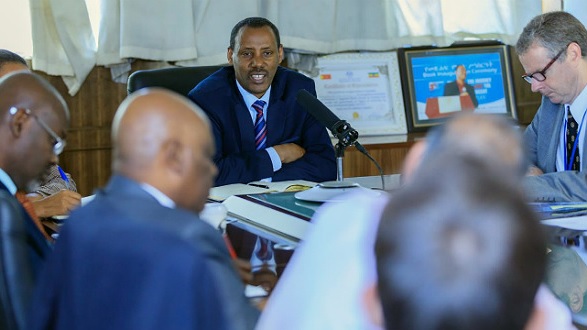 Ethiopia is facing a rapid rise in noncommunicable diseases (NCDs) and the main common risk factors causing these conditions are tobacco use, harmful use of alcohol, unhealthy diet, physical inactivity and environmental pollution.
ADDIS ABABA (WHO)–All-of-government action is needed to prevent and control the health and development impacts of noncommunicable diseases (NCDs) in Ethiopia, the Minister of Health told the United Nations Interagency Task Force on NCDs during its recent mission to the country.
The Task Force was informed that in recognizing the threat posed by NCDs, Ethiopia and the United Nations system here has prioritized action on cardiovascular and lung diseases, cancers and diabetes as part of the 2016-2020 UN Development Assistance Framework for the country.
"NCDs are a major threat to Ethiopia's health and prosperity," Ethiopian Minister of Health H.E Professor Yifru Berhan Mitke told UN NCDs Task Force members. "We must continue to address maternal and child health as well as communicable diseases, but we must also protect our population from NCDs and ensure access to quality prevention and treatment services."
Ethiopia is facing a rapid rise in NCDs and the main common risk factors causing these conditions, namely tobacco use, harmful use of alcohol, unhealthy diet, physical inactivity and environmental pollution. The country is also witnessing an increase in mental disorders and injuries. Today, NCDs account for 42% of deaths in Ethiopia. By 2040, they are projected to account for almost 70% of the country's disease burden, up from 17% in 1990. Especially worrying is that most NCD deaths in Ethiopia, as elsewhere, are premature (i.e. before age 70).
"The impacts of NCDs in Ethiopia are great, in terms of lives lost, human suffering and the costs to the labour force and economy," said the World Health Organization's Dr Nick Banatvala, lead of the Task Force, which visited Ethiopia from 13-17 November.
The Mission was conducted to support the government's efforts to tackle NCDs, mental health and injuries from multiple causes including road traffic accidents and included representatives from WHO, United Nations Development Program (UNDP), World Bank, United Nations Population Fund, and United States Centers for Disease Control and Prevention.
RELATED: New Partnership to Fight Schistosomiasis in Ethiopia: Merck Group and NALA Foundation
Professor Mitke said it was a priority for the health ministry to support other government departments to work jointly to address NCDs. "We recognize that many of the solutions to noncommunicable diseases lie in the domain of sectors beyond health, for example finance, urban planning, housing, education, and labor," the Health Minister explained.
Key NCD risk factor trends in Ethiopia indicate a problem that will worsen without urgent action. National prevalence of high blood pressure is 16%, with rates in some parts of the country as high as 25%. Only 4.8% of adults use tobacco, but rates are higher amongst youth and projected to increase. Harmful use of alcohol amongst adults is around 12.4%, and the booming alcohol industry in the country means this number could surge, too.
Ethiopia continues to confront undernutrition, but overweight and obesity are increasing in urban centers, where levels of physical inactivity are three times higher than in rural settings. Nearly all Ethiopian adults (97.2%) do not consume enough fruits and vegetables. Adult use of khat (15.8%), a shrub native to East Africa sometimes used as a stimulant that potentially poses a major issue for mental health.
Read the complete story at WHO
——
See also:
---