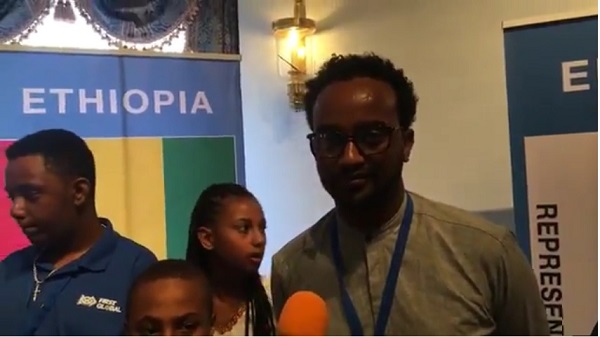 WASHINGTON, DC–A group of young Ethiopians, mostly high school & preparatory students, has participated in the FIRST Global Challenge which was held July 16–18, 2017 at DAR Constitution Hall in Washington, DC.
The group, which has six members and a leader/trainer, was organized by Atlas Technology Institute, in Adama, Oromia Regional State of Ethiopia, by recruiting talented students who have the passion and interest for science, especially for computer and robotic technology. Mr. Kalab Sisay, the team leader and trainer from the Institute said that the team represented Ethiopia and participated in this international robotics challenge not only to encourage the students but also to share experience with participants who came from different countries. He also mentioned that the students had received a six-month training before they come to Washington, DC for the challenge.
FIRST Global is a nonprofit organization that organizes a yearly international robotic challenge with teams representing over 150 nations around the world. This yearly challenge has an objective of igniting a passion for Science, Technology, Engineering, and Mathematics (STEM) among the more than two billion youths across the world.
On this year's competition of FIRST Global, Team Europe, Team Poland, Team Armenia, Team Israel and Team Germany, took the top spots by winning from 1 to 5, in that order. What makes the 2017 competition special is that, regardless of President Donald Trump's executive order on immigration which bars citizens of six Muslim-majority countries (i.e., Syria, Iran, Yemen, Libya, Somalia, and Sudan), all-girls robotic team from Yemen, Libya, Iran as well as Afghanistan were approved for entry to the United States for the challenge, making  Robot Olympics for High School Students 100% of Visa Approval Rate.
● SEMONEGNA ON SOCIAL MEDIA: Facebook| Twitter| Instagram| Pinterest
The organizers have also announced that the next year challenge, that is FIRST Global 2018, will be held in Mexico City, Mexico.
Semonegna.com
——
Other stories:
---