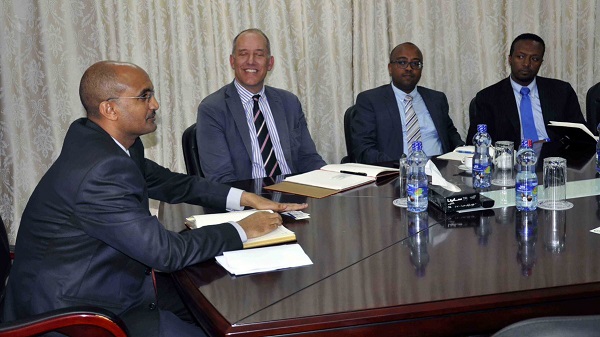 Addis Ababa (EBC)–State Minister for Foreign Affairs, Dr. Aklilu Hailemichael met with representatives of Globeleq on Friday (Feb. 17), during which he appreciated the company's ambition to boost power generation in Africa in general, and in Ethiopia in particular.
The State Minister, praising the innovative project Genale Dawa VI (GD-6) developed by Globeleq in partnership with Contingent Technologies, expressed his office's commitment to support the company in its investment endeavor in Ethiopia.
The State Minister further expressed his belief that the company's investment in Ethiopia will benefit the people and is in line with the country's vision as articulated in the Growth and Transformation Plan II (GTP II).
Henericus J. Sander III, Finance Director of Contingent Technologies (Partner of Globeleq), on his part explained that Genale Dawa VI (GD-6) project, upon completion, will not just be the first large-scale privately-owned hydropower facility in the country.
It will also attract a total investment of 850 million USD which would enable the irrigation of over 20,000 hectares of land in the Oromia and Somali Regional States, he added.
The Company earlier met with President Dr. Mulatu Teshome and discussed the implementation of the Genale Dawa VI (GD-6) project.
Source: EBC
——
Other stories:
---