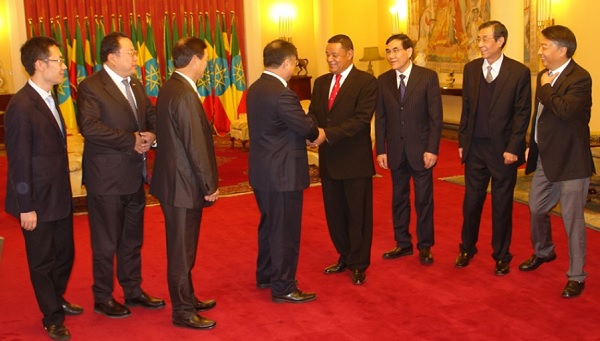 Addis Ababa (ENA)–Dr. Mulatu Teshome, the President of Federal Democratic Republic of Ethiopia, met on Thursday with a delegation led by China Poly Group Chairman Dr. Bao Dong Yu to discuss about the progress of the oil and gas project in Ethiopia.
The president assured the chairman Ethiopia's commitment to extend support to China Poly Group in its endeavor.
"The basis of our cooperation is the excellent relationship of the two countries,'' he added.
Appreciating Chinese comprehensive economic cooperation, President Mulatu urged the company to continue its cooperation in areas of capacity building of the mega projects during the Second Growth and Transformation Plan.
Poly Group Chairman Bao Dong Yu said "we hope that through the cooperation of this great project in Ogaden we can play a vital role in the development of Ethiopia and enhance business'' .
READ: VIDEO: Ethiopia, Chinese Companies Ink Deal for Intelligent Power Supply
According to Dr. Yu, the company has been taking part not only in the oil and gas project in Ogaden but also in providing turbine generators to the Great Ethiopian Renaissance Dam and ship building.
He said, "China Poly Group Corporation has always made full use of the opportunities availed in the sectors it is engaged in Ethiopia. The company will further work with the governments of Ethiopia and China to play a significant role in the development of the great country of Ethiopia.''
The chairman pointed out that China Poly Group is working in cooperation with the Metal and Engineering Corporation (METEC)
Source: ENA
——
Other stories:
---