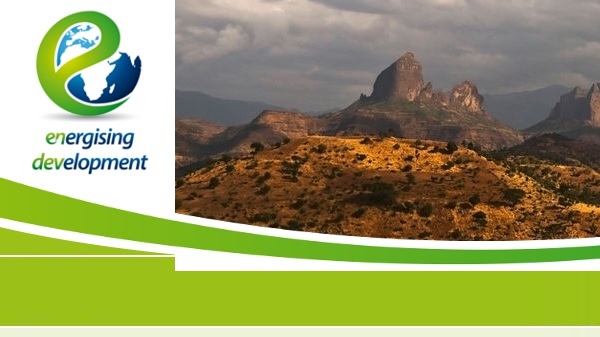 ADDIS ABABA (APA)–The European Union (EU) on Wednesday (Dec. 13) launched its energizing development program to provide support and solutions for a wide range of energy demands in Ethiopia.
The program is part of the agreement reached in 2017 between the EU, the core donors of German Development Cooperation's Energizing Development (EnDev) program and Deutsche Gesellschaft für Internationale Zusammenarbeit (GIZ) GmbH, together with the government of Ethiopia, to fund the existing Energizing Development activities in Ethiopia with an additional budget of €10.35 million.
The support will be directed towards developing and growing the market for modern renewable energy technologies and services as well as energy efficiency solutions, a statement from European Union Delegation to Ethiopia said.
It focuses on equipping social institutions with solar power, upgrading water mills to micro-hydropower plants and strengthening local markets for solar lanterns, improved cook-stoves and biomass briquettes.
With the additional funding from the EU and EnDev core donors, lower income households, social institutions and small and medium-sized enterprises in Ethiopia will gain better access to energy from renewable sources.
With the extra resources from the EU and EnDev core donors, around 500,000 people will be reached. 100 social institutions, predominantly rural health centers and schools, without access to electricity from the national power grid will receive solar power technology to run their facilities and technology.
What is Energizing Development Program?
● Energizing Development Program (EnDev) is an energy access partnership currently financed by six donor countries: the Netherlands, Germany, Norway, United Kingdom, Switzerland and Sweden.
● EnDev promotes sustainable access to modern energy services that meet the needs of the poor – long lasting, affordable, and appreciated by users.
● EnDev works in 25 countries in Africa, Asia and Latin America. 
In addition, measures will help establish 100 production sites for enhanced manufacturing of cook-stoves, which can be used for cleaner cooking in rural households normally dependent on firewood, 1,100 improved cook stoves will be provided to social institutions and 2,000 sold to businesses, 240,000 improved cook stoves will be manufactured to go on sale – accompanied by targeted promotional activities.
The EU support in Ethiopia will further strengthen the manufacturing market to produce 100,000 quality solar power systems and 1,300 solar home systems available for commercial distribution to households and businesses.
Source: APA
——
Other stories:
---