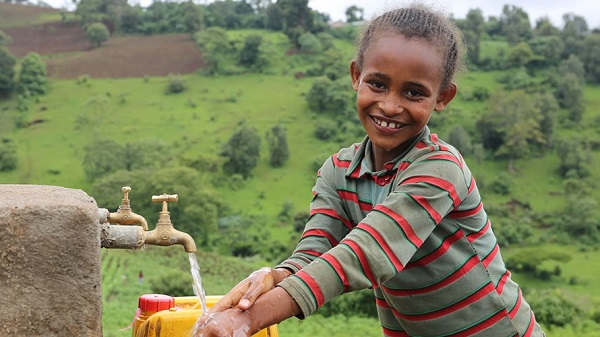 Over the course of the CPD the UNICEF contribution to the improvement of WASH in schools and health facilities was primarily directed towards the more heavily populated regions where the number of schools and health centers without adequate WASH facilities is the greatest.
(UNICEF Ethiopia) In 2015 Ethiopia achieved the drinking water Millennium Development Goals (MDG) target of 57 per cent, successfully halving the number without access to improved drinking water since 1990. This means that over 52 million people in Ethiopia now have access to an improved drinking water source (within 1.5 km) as compared to only 6 million people in 1990. This achievement is primarily the consequence of signi­ficant improvements in access to drinking water supplies in rural areas. Moving forward, this improved drinking water access is challenged by the sustainability of water supply schemes associated with the low reliability of water resources particularly in the more arid regions of Ethiopia.
While Ethiopia did not quite achieve the MDG for sanitation, the practice of open defecation was decreased by 63 per cent (the largest decrease in the proportion of the population practicing open defecation of any country globally). 67 million people gained access to a latrine over the MDG period at an average of 2.6 million people per year. These numbers do not even reflect the acceleration in the reduction of open defecation since the launch of the Community led Total Sanitation and Hygiene (CLTSH) program by the Federal Ministry of Health (MoH) in 2011. However, despite this impressive progress the overall numbers do mask some of the differences in progress between the different regions as well as the more challenging pockets of deprivation.
Read more about "Evaluation of the UNICEF Ethiopia Water, Sanitation & Hygiene  (WASH)" on UNICEF Ethiopia
——
See also:
---