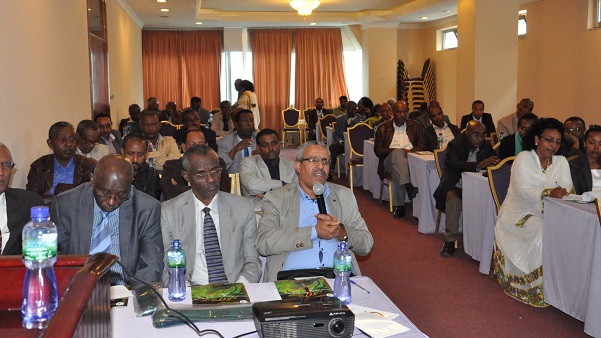 The Ethiopian Wildlife and Natural History Society (EWNHS) was established in September 1966 in Addis Ababa. EWNHS has been the inception of 32 keen Ethiopian and expatriate environmentalists and advocates of sustainable use of natural resources.
By Obaka Torto (BirdLife)
Fifty years ago, in June 1966, a group of 32 environmentalists and nature lovers founded an environmental social club whose patron was the late Emperor Haile Selassie. In September 1966, this social club eventually evolved to become the first indigenous environmental non-governmental organization in Ethiopia. In 1993, EWNHS formally opened to the public with enormous support from key lecturers in the Biology Department of the Addis Ababa University. With EWNHS's appearance as a conservation NGO, this year marked an important era in Ethiopian conservation, as this sector was the realm of the state up to this date.
What started as a social club has transformed over the years into a national conservation organization known today as the Ethiopian Wildlife and Natural History Society (EWNHS). Fifty years on and the organization set up by a small group of nature lovers has made tremendous achievements in the areas of environmental education, biodiversity conservation, monitoring and research as well as community outreach and awareness campaigns.
An event to mark EWNHS's Golden Jubilee was organized at Desalegn Hotel, in the capital Addis Ababa on 26 August 2017 to celebrate the organisation's achievements and commitment to environmental and wildlife conservation. It brought together conservation stakeholders, representatives of government and diplomatic institutions, actors in the development sector, the media and business community, as well as current and past board members, volunteers and supporters of EWNHS.
During a presentation, the Executive Director of EWNHS, Mengistu Wondafrash revisited the five decades journey of the organization in nature conservation and highlighted major achievements and some challenges – that included policy constraints, noting that collaborative efforts have been crucial in their work all these years.
"Environmental conservation is not solely the responsibility of any particular entity. It is a collective responsibility of all working hand in hand to harmonize development with conservation," said Mengistu. He also said that stakeholders need to work closer than ever before at national and global levels to tackle the many unprecedented environmental challenges that are negatively affecting the world's natural resources.
Read the complete story at BirdLife
——
See also:
---