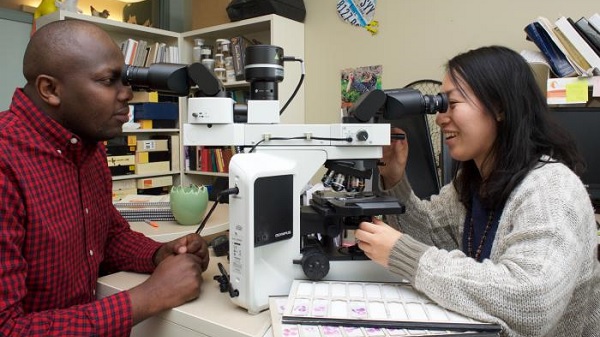 During the fall 2017 semester, the USDA's Foreign Agricultural Service (FAS) Faculty Exchange Program hosted 14 veterinarians from universities in Ethiopia, Ghana, Kenya and Tanzania. Over the course of four months, the academics collaborated with faculty mentors in the veterinary schools at Michigan State University and Iowa State University, developing new curricula and taking away best teaching practices to implement in their home countries.
Exchange participant Esther Amemor from Ghana's Kwame Nkrumah University of Science was impressed by the Iowa State curriculum that allows students to receive specialized instruction in clinical and veterinary medicine. When she returns home, she hopes to emulate this, as well as the short, concise lecture style that Iowa State faculty employed. Ethiopian participant Takele Beyene Tufa of Addis Ababa University's College of Veterinary Medicine and Agriculture appreciated collaboration with a faculty mentor at Michigan State, and is already planning joint research in veterinary pharmacology during his mentor's visit to Ethiopia in 2018.
Collaboration with African veterinary schools has clear-cut benefits for U.S. academia and trade. African and American scholars are building ties and working together on issues of global importance such as antibiotic resistance and the prevention of animal diseases like foot-and-mouth disease and avian influenza.
Launched in 1995 by the Foreign Agricultural Service (FAS) of the United States Department of Agriculture (USDA) , the Faculty Exchange Program enhances the teaching ability of agricultural educators from institutions of higher learning in developing countries. Participants come to the United States for one academic semester (4-5 months) to acquire new knowledge and enhance their ability to teach and build curricula at the university level.
Source: USDA
——
Other stories:
---