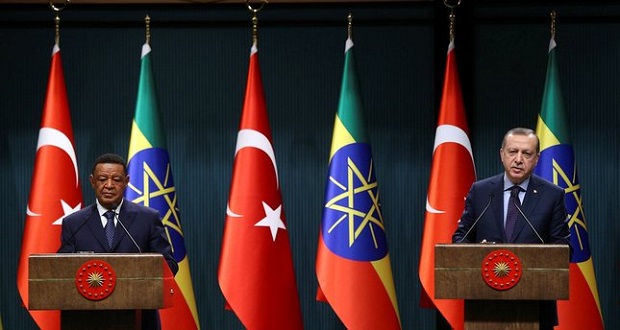 (Daily Sabah)–All schools linked to the Gülenist Terror Group (FETÖ) in Ethiopia will be handed over to a Turkish education foundation, Maarif Foundation, Ethiopian President Mulatu Teshome announced on Tuesday (Feb 07).
Speaking in a press conference following his meeting with President Recep Tayyip Erdoğan as part of a five-day official visit, President Mulatu expressed his country's support for Turkey's fight against terror, condemning the coup attempt on July 15.
He said that all FETÖ-linked education institutions in Ethiopia would be transferred to Turkey's Maarif Foundation (Education Foundation ) to support Turkey's terror fight.
President Erdoğan also reiterated the importance of cooperation between the two countries, saying that Turkey and Ethiopia are determined to wipe out the "tumor" that is FETÖ.
"Ethiopia is our friend who sees the criminal face of FETÖ, which poses a great threat to humanity," he said, referring to the group Ankara holds responsible for last July's coup attempt in Turkey, which killed 248 people.
"In this regard, we are taking steps within the alliance," he added.
READ: Turkish Cooperation and Coordination Agency (TİKA) Donates to Mekelle University Students with Special Needs
The president also pointed out that Ethiopia was one of the first countries to explain its support and solidarity to Turkey after the coup attempt.
Turkey has requested several countries around the world to shut down dozens of schools, colleges and businesses linked to the FETÖ network since the July 15 coup attempt.
Turkish diplomats have so far met around 600 ministers, 1,444 foreign members of parliament, plus nearly 6,190 senior officials globally to explain the FETÖ structure and its vast network abroad, according to a Foreign Ministry source.
Read more about "FETÖ schools in Ethiopia to be handed over to Turkish foundation" on Daily Sabah
——
See also:
---