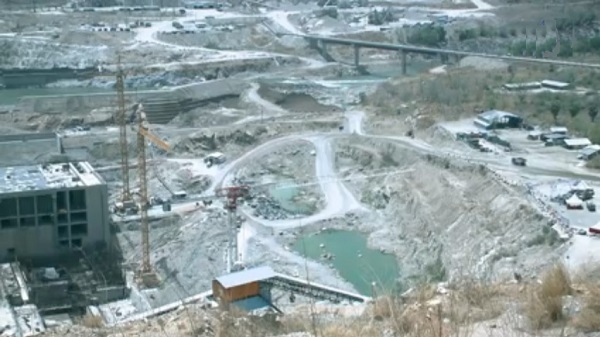 Ethiopia's controversial mega-dam, GERD, on the Nile River is nearly done, but will drought and lack of grid infrastructure lessen its impact?
By Jean Kumagai (IEEE Spectrum) |
Construction of the 6,000-megawatt, US $5 billion Grand Ethiopian Renaissance Dam (GERD) began nearly six years ago and is now close to completion. Sometime in 2017, the dam, which sits on the Blue Nile near the border of Ethiopia and Sudan, will begin producing electricity. Meanwhile, its vast 74 billion-cubic-meter reservoir will start to fill, a process expected to take anywhere from five to 15 years.
Ethiopia badly needs it. Only about a quarter of its citizens have access to electricity. The country's installed capacity is a dismal 3,200 MW, and the annual per capita electricity consumption is among the lowest in the world—65 kilowatt-hours in 2013, far below even the average of 488 kWh for sub-Saharan African countries and the world average of 3,104 kWh. Without electricity, the vast majority of Ethiopians rely on burning wood, dung, and other forms of biomass, and so deforestation and soil erosion has accelerated.
READ: GERD and Koysha Dam: The Dams of the Future
Given the country's natural resources, there is no need for this impoverishment. According to energy experts, Ethiopia has the second highest hydropower potential in Africa, with an estimated capacity of about 45,000 MW. The GERD, as well as the 1,870-MW Gilgel Gibe III Dam completed in 2015, will nearly quadruple Ethiopia's electricity capacity. Excess electricity will be exported to other African countries and even to Europe and could eventually earn Ethiopia about $1 billion per year, which would make it the largest electricity exporter in Africa.
Among the dam's other expected benefits are a steadier flow of water through the dry season and less flooding in the rainy season. That regulating influence could be especially helpful as climate change makes East Africa's rainfall more unpredictable.
But like all big hydropower projects these days, the dam has raised plenty of concerns. Sudan and Egypt, Ethiopia's downstream neighbors, have understandably worried that the flow of the Blue Nile will be curtailed, particularly during the filling of the dam's reservoir.
Read more on IEEE Spectrum
——
See also:
---