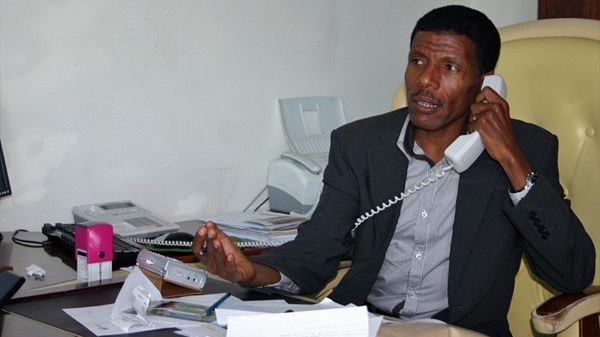 Now the head of the Ethiopian Athletics Federation, Haile Gebrselassie is determined to clean up athletics' image, but has his reasons for why he wants to see Russia return to competition
By Barney Cullum (The Independent) |
Starting with a new event fronted by Usain Bolt this weekend, athletics will spend 2017 attempting to claw back the fans it lost to the doping scandals unearthed last year. But Haile Gebrselassie – one of track and field's greatest names – feels athletics is missing Russia more than Russia is missing athletics.
It's 8am when The Independent meets Haile Gebrselassie at his basement gym in downtown Addis Ababa, the restless capital city of his native Ethiopia. This represents an early appointment for an interview in sports journalism. However the double gold-medalist, who set over 20 world records in a glittering distance running career, has already eaten up 15 miles through the hills and forest by the time we meet.
Haile Gebrselassie retired from competitive running in 2015, but refuses to slow down. The 43-year-old's latest high altitude "jog" through Yaya Village, 10 miles north of the metropolis, comes on the second day of a three day religious holiday for the East African country. Most of his compatriots are still in bed. Nursing a serious Achilles injury on a chilly morning, he could have pulled up the duvet too. Instead he is not just running, but ready to take questions on the role he is playing in cleaning up doping as the newly appointed head of the Ethiopian Athletics Federation.
"Next month Ethiopia will approve the first prison sentence given to a drugs cheat in athletics," is one of the first statements Haile Gebrselassie wants to make to The Independent, revealing something as yet unreported overseas. Sentences of between three to five years were introduced as deterrents prior to Haile Gebrselassie's appointment in November but no-one had been brought to court and prosecuted until he took office.
The Atlanta and Sydney Olympics 10,000 meters gold medalist and former marathon world record holder is known for his gentle public demeanor. However, the evidence he will give in person at the historic sentencing hearing will showcase the streak of toughness and fairness than runs through him.
"We need to be strict," Haile Gebreselassie says, admitting that Russia was a wake-up call for a sport that had been complacent for too long. "There must be a tough punishment. When we do this, the rest of the world needs to be strong too."
Read more about "Ethiopia great Haile Gebrselassie willing to…" on The Independent
——
See also:
---