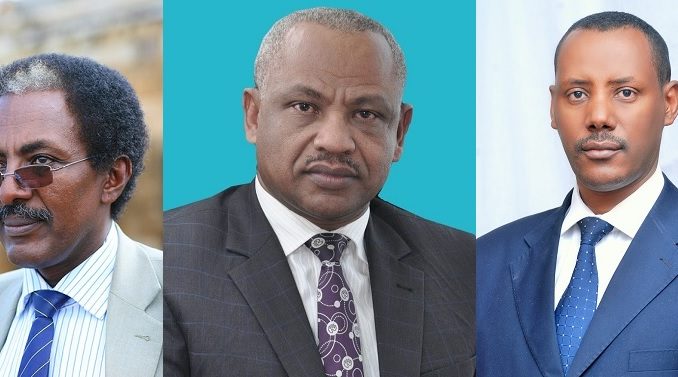 It is to be recalled that last Nov. 01, 2016 a new cabinet was formed which is widely praised for being the first cabinet of FDRE that comprised many from the academia than ever before. While a lot is already said on the point Hawassa University (HU) rejoices on contributing three of its distinguished former Faculty for the new top executive body of the nation.
H.E. Dr. Bekele Bulado – Trade Minister, H.E. Prof. Fekadu Beyene, Livestock and Fishery Minister and H.E. Prof. Yifru Berhan – Minister of Health were once at Hawassa University in their white gowns discussing with young college students, conducting researches and running offices from first line to the Vice-President level.
To begin with the one who physically left HU, they usually express it is hard to leave in spirit, Prof. Fekadu Beyene started working at the then Addis Ababa University's Awassa College of Agriculture (ACA) as a Graduate Assistant since 1982 G.C. He went to school twice for and graduated with MSc in Animal Production in 1987 from Haramaya University (the then Alemaya Agricultural University) and PhD in Dairy Technology in 1994 from Agricultural University of Norway. Among other immense contributions Prof. Fekadu Beyene served HU as Academic vice Dean1995 – 1999 (ACA) and Academic Programs Officer (Debub University) 2000 – 2006, the year he left to Wollega University.
In short Dr. Fekadu Beyene is a University Professor, researcher, institute, program and project leader, and also actively involved in the development of Debub University (now Hawassa University), served as a founding President of Wollega University, President of Ethiopian Civil Service University, Administrative board member of Universities, Agencies, served as chairperson and/or member of several international and national task forces or steering committee. He gained international experiences as a visiting scholar at Langston University in USA, and visiting scientist at Saskatchewan University in Canada. Prof. Fekadu also initiated and managed various collaborative research and development projects and academic programs. He acquired leadership skills including team building, motivation, inspiration, planning, monitoring, and evaluation. Dr. Fekadu advised several graduate and undergraduate students in their thesis and project works as well as reviewed and edited scientific articles for peer reviewed journals. In short he gained extensive experience in teaching, research and consultancy services.
Continue reading this story on Hawassa University
——
See also:
---