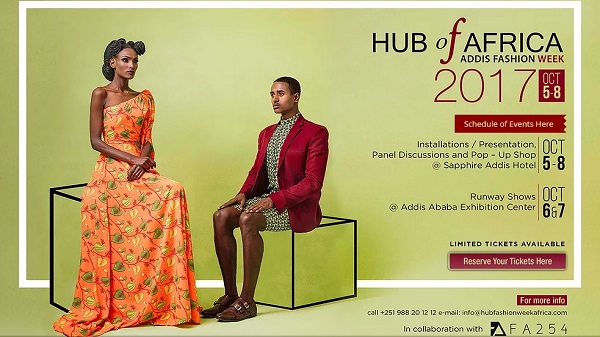 EVENT: Hub of Africa Fashion Week 2017
DATE: October 5-8, 2017
VENUE: Addis Ababa Exhibition Center, Addis Ababa, Ethiopia
ADDIS ABABA (Semonegna)–Ethiopia's capital will host the 6th edition of the yearly event Hub of Africa Fashion Week will be from 5 to 8 October 2017 at Addis Ababa Exhibition Center. Hub of Africa Fashion Week has, through the years, become a hotspot for African fashion shows with the aim of gaining international exposure and breakthrough for prominent fashion African fashion designer. Model and rap artist turned fashion designer Mahlet Teklemariam started Hub of Africa Fashion Week in 2010.
The four-day event will have two main categories of events. The first part includes installations/ presentation, panel discussion and pop-up shop which will open to the attendees. The second part of the event includes runway fashion shows on which fashion designers will showcase their line of closing and designs. Designers from Ethiopia, Kenya, Nigeria, Senegal and South Africa will take part in the event.
Hub of Africa Fashion Week is organized with collaboration of Fashion Africa 254 (FA254), an international social business which is engaged in enhancing the development of fashion industries in Africa and strengthen local markets. The German-based FA254 is founded by former model Waridi Schrobsdorff, a German national of Kenyan and Arab descent.
Semonegna.com
——
Other stories:
---