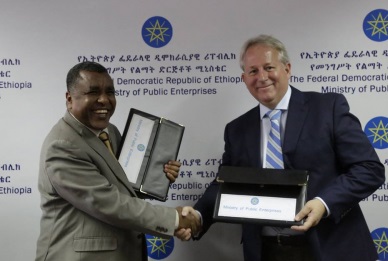 ADDIS ABABA (JT Group)–Japan Tobacco Inc. (JT) (TSE: 2914) announced on December 21, 2017 that Japan Tobacco International, also known as JT Group, has signed a share purchase agreement of USD 434 million with the Ethiopian Government for approximately 30% of the total shares in National Tobacco Enterprise Share Company (NTE), bringing the JT Group's share ownership to over 70% of the total number of NTE shares. The transaction is expected to be completed later on the same day.
"This significant increase in our ownership of National Tobacco Enterprise shares reaffirms our strong belief in the company and Ethiopia as an increasingly important place to do business in Africa," said Eddy Pirard, President and CEO of Japan Tobacco International. "By combining our international and newly acquired local expertise, we are confident that we can take National Tobacco Enterprise to a new level of growth."
Since acquiring 40% of NTE's shares last year, the JT Group, as the largest shareholder, has been contributing to NTE's growth by leveraging its international experience in the tobacco business.
"We would like to express our sincere gratitude towards the Government for their trust and for their efficient collaboration in finalizing this transaction," added Mr. Pirard.
Founded in 1999 and headquartered in Geneva, Switzerland, Japan Tobacco International (JTI) is the international tobacco division of Japan Tobacco, a leading international tobacco product manufacturer, which produces some of the world's best-known brands. Some of the JTI's flagship brands are Mevius, Camel, Winston, Silk Cut and Sobranie. Operating in 120 countries worldwide, JTI employees around 27,000 people.
Source: JT Group
——
Other stories:
---