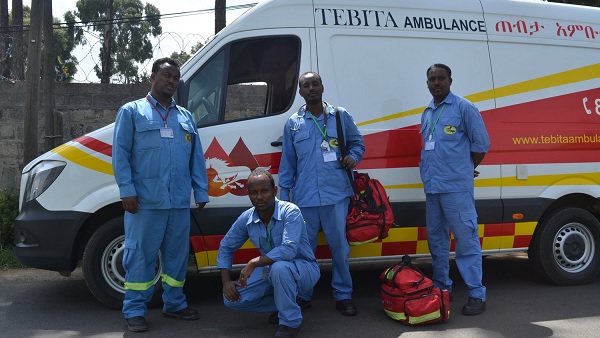 Tebita Ambulance provides a persuasive example of the important role thatsocial enterprise can play in support of the Sustainable Development Goals 
By Adam Pillsbury for The Guardian (Global Stakeholder Manager, Social Enterprise, British Council)
Kibret Abebe Tuffa is the founder and owner of Tebita Ambulance Pre-Hospital Emergency Medical Service, a social enterprise that developed the first private ambulance service in Ethiopia.
While working for 17 years as a nurse anesthetist at the largest teaching and referral hospital in Addis Ababa, Kibret handled numerous emergency cases and saw first-hand how many lives were unnecessarily lost due to the lack of ambulance services.
In a country with some of the world's deadliest roads, the absence of such critical life-saving support was for him a daily tragedy. He asked his colleagues: "How can we wait for a victim to come to us without any life saving measure rather than going out to assist him or her?"
So in 2008, Kibret sold his only house to acquire three old ambulances and the necessary license and launched Tebita Ambulance. He did so against the advice of nearly all of his peers and relatives who questioned the impact he could deliver and argued that ambulance service was the responsibility of government or the Red Cross. His response was, "I prefer to start challenging this problem rather than sit and complain about it."
From the outset, Kibret wanted Tebita to generate income so that it would be financially self-sustainable, not aid dependent, but it took time to find the right formula. "When we started, we knew nothing about any practical business model," says Kibret, who credits a one year training program on business strategy offered by SIDA, Sweden's international development agency, with helping him to develop a successful social enterprise.
He has since developed a business model based on cross- subsidization. Tebita offers high quality, ISO-certified ambulance service, remote medical assistance and emergency aid training to multinationals, diplomatic missions, foreign NGOs and expatriates. It uses the surplus income from those activities to subsidize the cost of a local 24/7 ambulance service in Addis Ababa and in surrounding provinces. As a result, Tebita can offer ambulance service to the public for an average of USD $15-20, even though the actual cost is $51.
Read the complete story at Small & Growing Businesses
——
See also:
---