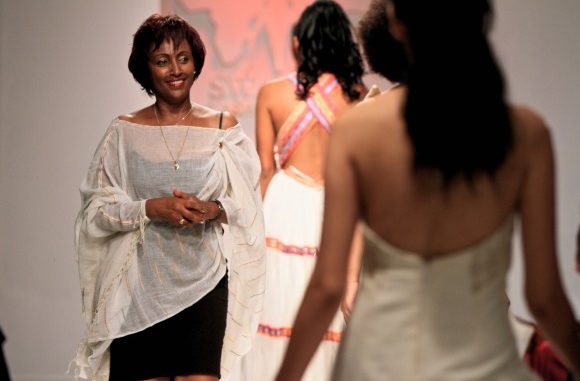 Ethiopian manufacturers are becoming increasingly competitive and ambitious, but can East Africa really provide an affordable sourcing alternative to Asia?
By Robb Young (BoF) |
ADDIS ABABA, Ethiopia — All is not what it seems in the Ethiopian capital. Had you failed to notice the small huddle of men wearing hard hats discussing 'lean manufacturing,' you might have mistaken last month's shoe factory tour for a religious festival.
Dressed in their finest Abyssinian gowns, a group of Ethiopian women greeted guests with rose petals as frankincense wafted through the air inside a building of immense proportions. Surrounded by local dignitaries in sharp suits watching the hostess perform an elegant coffee ritual, the delegation of casually-dressed Americans looked understandably self-conscious.
"Gosh," one murmured to another, as he was given a slice of ceremonial himbasha bread. "Sure wasn't expecting this."
For Gashaw Debebe, chairman of the factory where the Americans were being entertained, this was an opportunity to pull out all the stops and show off his new 20,000-square-metre facility.
"When it's completed in two months, it's going to produce 10,000 pairs of shoes per day and 70 percent of that will be export," declared Debebe, whose company Anbessa has manufactured shoes for the likes of J Crew and Harbor Footwear Group from its old premises in central Addis Ababa, Ethiopia.
Read more "Made in Ethiopia: Fashion's Next Sourcing Hub?" on Business of Fashion
---