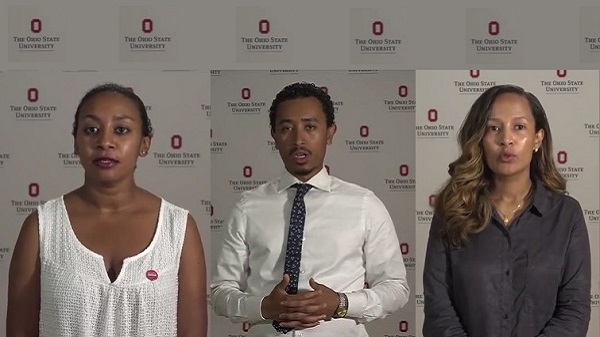 (Semonegna)–The Mandela Washington Fellowship (MWF) for Young African Leaders is the flagship program (by the U.S. Department of State) of the Young African Leaders Initiative (YALI) that empowers young people through academic coursework, leadership training, and networking. Launched in 2014, the program is administered by International Research & Exchanges Board (IREX), an international nongovernmental, nonprofit organization specializing in global education and development. IREX "empowers youth, cultivates leaders, strengthens institutions, and extends access to quality education and information."
The Mandela Washington Fellows, who are between the ages of 25 and 35, have established records of accomplishment in promoting innovation and positive impact in their organizations, institutions, communities, and countries. In 2017, Fellows represented a diverse group of leaders from 48 countries across Sub-Saharan Africa. Fifty-one Fellows identified as having a disability, and 50 percent of Fellows were women.
Every year since its inception, the participants of the Fellowship engage in to major parts of activities: U.S.-based activities and Africa-based activities.
During the U.S.-based activities period, each Mandela Washington Fellow takes part in a six-week Academic and Leadership Institute at a U.S. college or university in one of three tracks: Business and Entrepreneurship, Civic Leadership, or Public Management. Following the academic component of the Fellowship, the Fellows visit Washington, D.C., for a Summit featuring networking and panel discussions with U.S. leaders from the public, private, and non-profit sectors. Finally, one hundred selected Fellows remain in the United States to participate in a six-week Professional Development Experience with U.S. non-governmental organizations, private companies, and governmental agencies that relate to their professional interests and goals.
The Africa-based activities include the engagement of the Mandela Washington Fellows after returning to their country of origin. Upon returning to their home countries, Fellows continue to build the skills they have developed during their time in the United States through support from U.S. embassies, four Regional Leadership Centers, the YALI Network, and customized programming from USAID, the Department of State, and affiliated partners. Through these experiences, select Mandela Washington Fellows have access to ongoing professional development opportunities, mentoring, networking and training, and support for their ideas, businesses, and organizations. Fellows may also apply for their American partners to travel to Africa to continue project-based collaboration through the new Reciprocal Exchange component.
The Mandela Washington Fellowship 2017: Ethiopian Fellows
In the 2017 Mandela Washington Fellowship, three Ethiopian professionals took part representing Ethiopia. Yordanos Ashagre Awoke, Tewodros Tsegaye Ayele and Mahlet Kifle Habtemariam who joined the Ohio State University (Columbus, OH) for 'academic and leadership' term of their fellowship.
Yordanos Ashagre Awoke has one year of experience as a neurosurgeon. Currently, Yordanos is an assistant professor at Hawassa University Comprehensive Hospital which focuses on providing neurosurgical care for trauma patients and those with spina bifida. Yordanos has completed her specialty training in neurosurgery and her doctoral degree. Upon completion of the Mandela Washington Fellowship, Yordanos plans to continue her work on improving the lives of patients with spina bifida by strengthening the comprehensive care unit and by establishing of a pediatric center.
Tewodros Tsegaye Ayele is a medical doctor, consultant internist, and public health specialist with more than seven years of experience. He is currently an assistant professor at the University of Gondar, rendering academic, research, clinical, and community services. He is also the secretary general of the Ethiopian Medical Association. In addition, he has founded a charity organization to improve the quality of education in his former high school. Tewodros has excellent communication, organizing, networking and decision making skills. Upon return from the fellowship, he will engage in innovative approaches to reaching key populations and addressing their health issues, especially HIV, hepatitis virus infections and mental health.
● SEMONEGNA ON SOCIAL MEDIA: Facebook| Twitter| Instagram| Pinterest
Mahlet Kifle Habtemariam has more than seven years of experience as a public health expert and leader in the Ethiopian health system. Currently, Mahlet is the general director of the Ofce of the Minister where she provides oversight to the operations of various directorates. She monitors the implementation of the 2016 – 2020 Health Sector Transformation BASHIR IBRAHIM HAIBAN (SOMALIA) is very dedicated to his current work and the United Nations Population Fund's (UNFPA) mandate to "deliver the world where every pregnancy is wanted, every birth is safe, and every young person's potential is fulfilled." Bashir holds a bachelor's degree in accounting and has more than five years experience working with Plan and executes the minister's flagship initiatives. During her tenure, she has established the Non-Communicable Diseases (NCD) Prevention and Control program and has championed the first national strategic action plan for the prevention and control of NCDs. She also promotes the national cancer control plan. Mahlet is the chair of the Ethiopian National Lancet NCDI Poverty Commission on the development of a national investment case for pro-poor policies and an integrated health service delivery platform for NCDs and injuries. She is a medical doctor by profession with a Master of Public Health in international health from University College Dublin. Mahlet is committed to public health service excellence and aspires to become a prominent public health leader and scholar in the African region.
In 2018, the Fellowship will provide 700 outstanding young leaders from Sub-Saharan Africa with the opportunity to hone their skills at a U.S. college or university with support for professional development after they return home.
Semonegna.com
——
Other stories:
---