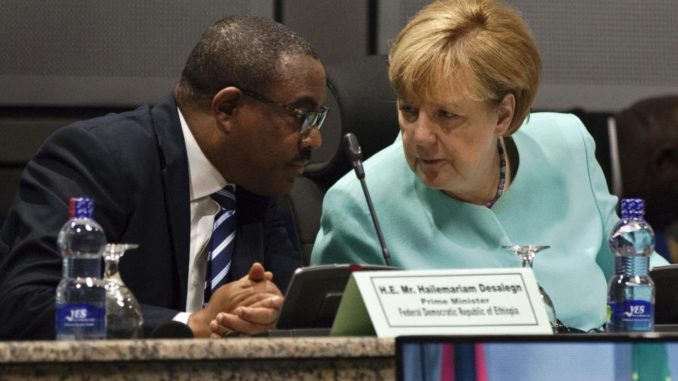 Chancellor Angela Merkel called on the Ethiopian government to maintain a sense of proportion when dealing with protests by opposition and rebel groups.
"I say that one should seek dialogue with people who have problems and conduct it openly," Merkel said after meeting Ethiopian Prime Minister Hailemariam Dessalegn in Addis Ababa on Tuesday.
Angela Merkel also offered German assistance for Ethiopian police training in de-escalation tactics.
Ethiopia has experienced a year of unrest which rights groups say has led to about 500 deaths. The violence prompted the Ethiopian government to declare a nationwide state of emergency on Sunday.
Hailemariam Dessalegn defended the Ethiopian police saying they "did not use force excessively" and if this had happened there would be an investigation. He said protests by young people had initially been justified because of the high level of unemployment. But then groups with explosives and weapons and the backing of foreign governments had become involved, Dessaslegn said.
Last week, protesters ransacked or torched about a dozen mostly foreign-owned factories, flower farms and other sites, accusing the government of building on seized land and stifling opposition. Opponents of the government blamed police for provoking a stampede at a festival in Oromia that killed at least 55 people on October 2.
The Ethiopian prime minister promised changes to electoral law so that the voices of the opposition would be heard, even if they weren't represented in parliament.
---